Food: Hungry for Convenience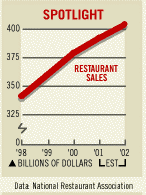 Americans seem to have a bottomless appetite for eating at restaurants, coffee shops, juice bars, and vending machines. Last year, 46% of family food dollars, or about $392 billion, were spent on meals and snacks outside the home. The tally might have been a little higher had the economy not tanked. Still, some food-industry pundits take the long view: By 2010, predicts the National Restaurant Assn., Americans' obsession with convenience will spur them to spend 53% of their food budgets away from their kitchens.
This year, while analysts are far from bullish, they are expecting a slight increase in restaurant sales. Trendy, upscale restaurants won't be as packed as they were in years past, mainly because the soft economy will continue to discourage their patrons, says B. Hudson Riehle, a senior vice-president at the restaurant association. But sales at fast-food joints will more than offset any sluggishness at the top end, he predicts. So despite the economic malaise, the restaurateurs expect to post a 3.9% increase in business this year, to $408 billion. Owners and managers remain worried, however, because that growth rate lags the 5.4% growth of 2000. When the association surveyed its members in recent years about major challenges, quality of labor always topped the list. Now, says Riehle, "it's the economy and maintaining business."
Slow growth is bound to have repercussions for restaurant suppliers. Some of the big outlets are already getting slammed, including Tyson Foods (TSN ), Pillsbury (GIS ) (now part of General Mills Inc.), and H.J. Heinz (HNZ ), says Robert S. Goldin, executive vice-president of Technomic, a food-industry consultant. Goldin predicts that suppliers will grow at a mere 1% to 2%. However, most of those companies have much larger grocery retail businesses, which will compensate to some degree.
Nobody in the supermarket industry expects much rebound business from restaurants. "People aren't going to go back to cooking the way their grandparents did," says Michael J. Sansolo, a senior vice-president at Food Marketing Institute, a trade group. But he does see the slowdown as an opportunity for member supermarkets to fine-tune their appeals to shoppers--and perhaps bolster their notoriously thin margins as well. Give shoppers a choice between lower prices or more convenience, says Sansolo, and convenience will win every time.
Harried shoppers certainly seem to like the one-stop approach. Sansolo notes that if a store is among the 3% of supermarkets with gasoline pumps, "half of the shoppers will use that gas station because of the convenience factor." Another convenience technology that's taking stores and shoppers by storm is self-scanning checkout lanes. Already used by an estimated 20% of grocery stores, self-scanning is a real win-win innovation. It lets shoppers bypass the cashier and saves the store money as well.
Convenience has been a strength of packaged-foods producers for decades. To curry favor with today's generation, food producers are now bringing "almost fast-food" products even to homes without microwave ovens. Family-size meals will go from the freezer, to the oven, and to the table in as little as 10 minutes. If the kids still get impatient, parents can whip out some distracting novelties this year, like toast decorated with blue-and-pink margarine.
Food and restaurant execs are keeping their fingers crossed that terrorists will stay away from food. After September 11, restaurant sales took a noticeable hit--but if the food supply were attacked, the outcome could be even worse. William T. Hawks, an Agriculture Dept. Under Secretary, says precautions are being taken. Already, the number of food inspectors at U.S. ports of entry has increased by nearly 40%, for example. But imported foods flow through so many ports that food security could never be absolutely guaranteed. By the same token, a supply network this complex would be difficult for anyone to disrupt significantly. Still, imagine the reaction if food laced with botulism--not to mention anthrax--turned up in a few supermarkets.
That hypothetical threat seems not to be worrying shoppers and diners--which is fine with food producers and restaurants. Even without terrorism, the challenges for the food industry this year will be steep.
By Julie Forster in Chicago
Before it's here, it's on the Bloomberg Terminal.
LEARN MORE