Even Builders Are Hitting a Wall
Lenders have pulled back almost 100%. There's going to be six months to a year where we'll have no new construction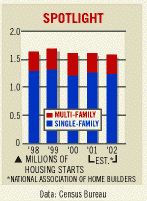 Six miles east of downtown Denver, Forest City Enterprises Inc. (FCE.A ) is hard at work on the biggest urban redevelopment project in the U.S. today. Over the next 20 years, the Cleveland real estate outfit plans to transform what had been Stapleton International Airport--a 4,700-acre spread that would cover a third of Manhattan--into a full-blown community. Already, crews are completing a 740,000-square-foot shopping center to be anchored by big-box retailers such as Wal-Mart Stores Inc. (WMT ) and Home Depot Inc. (HD ) And in April, construction is scheduled to begin on two schools plus 1,100 moderately priced houses and apartments.
Phase I won't be quite as grandiose as first thought, however. Forest City initially had proposed two office buildings, including a 12-story tower suited for a corporate headquarters, and dozens of estates to be listed at $500,000 or more. But Denver's office vacancy rates are surging, and the market for upper-bracket homes is already glutted. So the developer scratched those properties. "We cannot create demand out of thin air," says Gregory M. Vilkin, president of Forest City Residential West Inc.
After a decade of prosperity, hard times may finally be catching up to the nation's builders. The overall economy tripped into recession in 2001, but not the construction juggernaut. Developers tallied an estimated $481 billion in new starts in 2001, the 10th consecutive record year, according to F.W. Dodge, a McGraw-Hill Companies unit that monitors the construction industry. Employment in the sector also bucked the nationwide trend, rising while America's total payroll shrank by 1.2 million jobs. Despite all the dour news on Wall Street last year, most builders posted consistently higher earnings--prodding investors to bid up shares of some by more than 35%.
This year will be a different story. Growth could be worse than soft--it might be negative. If so, it would be the industry's first down year since 1991.
Corporate downsizing explains a lot of the poor prognosis. After spending freely on new facilities and expansions in the past decade, many companies are finding they have much more office, retail, or factory space than they need, particularly as they scale back operations to mitigate the recession's hammering. As a result, except for health-care providers and discounters like Wal-Mart, few companies are ordering new buildings.
In the office sector, in fact, many are unloading space, pushing vacancy rates above 30% in parts of Denver, San Francisco, and Seattle, cities that once teemed with contractors readying space for dot-coms and telecom upstarts. Only a few months ago, office developers expected to add 90 million square feet of space nationwide in 2002. Now, the consensus has fallen to 60 million square feet. "Construction lenders have pulled back almost 100%," states Timothy H. Callahan, chief executive of Equity Office Properties Trust. "There's going to be six months to a year where we'll have no new construction."
Any contraction in construction could be trouble for the U.S., robbing the nation of one of the few bulwarks against the recession. Indeed, the sector's weakening is already rippling through the economy. Prices of lumber and other building materials such as drywall have plunged 40% to 60% since early 2000, pinching Weyerhaeuser Co. (WY ) and USG Corp. (USG ), among others. Oshkosh Truck Corp. (OTRKB ) cautions that sales of concrete mixers may skid 20% in 2002, after a 30% drop in 2001. And Black & Decker Corp. (BDK ) is bracing for a continued slide in power-tool and plumbing-parts sales.
Architects, engineers, and even interior decorators might want to freshen up their resumes--and soon. With few new projects coming in and existing developments wrapping up, demand for their services undoubtedly will decline. "The 25-person office will all of a sudden become 18," warns Allen Abend, chief of school facilities at the Maryland State Education Dept., who oversees its design team.
Still, construction is not about to collapse. While nonresidential building starts will fall by 7% in 2002, the decrease in total spending on new projects will be 2% or less, predicts F.W. Dodge. The reason? By itself, housing accounts for roughly 45% of all new construction in the U.S., and though it is off from 1999's high, homebuilding is expected to hold steady in 2002. Inventories are one sign of housing's underlying strength. At yearend, inventories of unsold homes equaled 4.5 months of sales. In the 1990-91 recession, by comparison, inventories peaked at nine months.
Within the housing market, of course, there are divergent trends. Luxury-home sales are tanking, as the rich suffer from a reverse wealth effect. "We're in for several months of slower traffic," admits Thomas O. Weeks, president of LR Development Co., which is building 61 floors of high-end condominiums in Chicago. But demand at the lower end of the price range remains vibrant as low interest rates enable more people to buy a starter house or condo, or trade their way up. Pulte Homes Inc. (PHM ), for instance, plans to build as many as 28,000 homes nationwide in 2002, up 25% from 2001, as it shifts toward more modest models. "Right now, we would not be building higher-priced houses in San Francisco," notes Mark J. O'Brien, CEO of the Bloomfield Hills (Mich.) company. "But overall, we feel our business is robust."
Spending on public works such as schools, highways, and municipal infrastructure also is still on the upswing, though budget cuts at the state and local levels might force governments to stretch out or cancel projects as the year winds down. And construction of health-care facilities should continue to do well as an aging population requires more services. That's turning out to be a godsend to Centex Corp. (CTX ) The Dallas developer says work for high-tech companies has evaporated, with no business anywhere on the horizon. But thanks to new contracts from schools and hospitals, Centex has $2.1 billion in orders on its books--enough to keep its crews busy until 2004. By then, the recession should be only a memory.
By Michael Arndt in Chicago
Before it's here, it's on the Bloomberg Terminal.
LEARN MORE