Energy: No Tigers in This Tank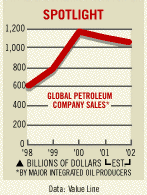 The past two years have been disastrous for many U.S. and European companies, but not for the oil industry. Outfits such as BP PLC and Exxon Mobil Corp. have basked in record profits, thanks to high energy prices and efficiencies eked from merger-related cost-cutting.
Now it looks like oil and gas companies will have to earn their money. While a host of uncertainties clouds the picture for the coming year, both oil and gas wholesale prices seem likely to continue their slide in 2002. That means pressure on profits. Deutsche Banc Alex. Brown predicts adjusted net income at the three largest companies--Exxon Mobil (XOM ), BP (BP ), and Royal Dutch/Shell (RD )--will decline this year by about 30%, to $26 billion, from 2001 levels. So companies are cutting back spending on drilling--especially in the U.S. "We're certainly going to start the year on a downbeat note," says Mark G. Papa, chairman and CEO of Houston-based EOG Resources Inc. (EOG ), a large independent oil and gas producer.
The main squeeze on prices is the global economic slowdown, which undercuts demand for fuel. And while high prices the past two years drove investment in new production, especially in the former Soviet Union, some of that will now be cut back. "Otherwise prices will come down sharply," says Adam Sieminski, an oil analyst at Deutsche Banc in Baltimore.
Sieminski is betting crude prices will average $18 per barrel for benchmark Brent crude next year, compared with about $26 in 2001 and $28.50 in 2000. But many factors could come into play. OPEC and non-OPEC producers have agreed to cut 2 million barrels a day, for now--but if the pain-sharing deal comes unstuck, prices could plummet below $15. As an alternative, try this scenario: The U.S. takes military action against Iraq, the world loses 3 million barrels per day of Iraqi production, and prices hit the stratosphere--until the Saudis start pumping furiously to make up the difference.
On balance, energy companies are betting prices will fall--especially for U.S. natural gas, which has plunged to about $2.60 per million BTUs from more than $10 in early 2001. That means cutting back on exploration and production budgets, which have been growing in recent years. "Everybody spent a lot of money this year, and now they're looking at next year and saying, `Whoa, I can't do that,"' says Papa. He expects to cut capital spending by 40%, to $700 million to $800 million.
Outside the U.S., the picture is brighter. Big new fields in the former Soviet republics and the deepwater areas off Brazil and West Africa promise better returns than the more mature U.S. fields. Based on a recent survey of more than 350 oil and gas players, Lehman Brothers Inc. expects international budgets could grow 10.5%, to $80.7 billion. But budgets for exploration in the U.S. will fall by 18%, to $29.6 billion--and in Canada by 20%, to $12 billion.
One exception: deepwater oil and gas in the U.S. Gulf of Mexico. High-tech drills can now access fields thousands of feet below sea level. Some rich finds there lead BP CEO John Browne to conclude that the region will one day be "more important than Alaska."
Companies are bound to continue prospecting for new opportunities in the financial markets as well. In fact, lower stock prices may encourage deals. Already, middleweights Conoco Inc. (COC ) and Phillips Petroleum Co. (P ) are planning to merge, and such a teaming could well make them more attractive for a bigger fish to swallow. Sieminski says Deutsche Bank also views Italy's ENI (E ) and Spain's Repsol (REP ) as possible merger bait. In the U.S., he believes Unocal (UCL ), Amerada Hess (AHC ), and Marathon (MRO ) could all go if the price is right. Analysts figure the Europeans, such as the ever-hungry BP and Total Fina Elf (TOT )--and even Royal Dutch/Shell Group, which is waking from a long slumber--may be in the acquiring mood. So, despite lower prices, 2002 could be a very exciting year.
By Stanley Reed in London, with Stephanie Anderson Forest in Dallas
Before it's here, it's on the Bloomberg Terminal.
LEARN MORE