Education: A New Push to Privatize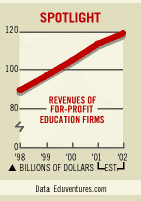 A year ago, the $800 billion education industry seemed poised for rapid growth, propelled by public pressure to fix failing schools. But the war on terrorism has put school reform on the back burner, and the deepening recession has forced many states to scale back school spending. Meanwhile, venture capitalists--who had pumped $5.5 billion into for-profit education companies in 1999 and 2000--turned down the spigot, cutting new investments by 75% in 2001.
As a result, 2002 is shaping up as a mixed year for education. Public spending on schools and colleges--which accounts for the bulk of education revenues--will continue to be squeezed as the recession cuts into tax receipts. Prior to September 11, "the rate of spending increases on education had already slowed sharply," says Ted Sanders, president of the Education Commission of the States, which monitors nationwide education trends. Higher education has been hit the hardest, he says, forcing a 7.7% hike in tuitions at public universities in the current academic year, up from a 4.6% increase last year.
Even in this difficult environment, many companies in the for-profit education arena are succeeding. Eduventures, a Boston researcher, expects the $113 billion for-profit sector to grow 5% this year--far faster than education or the economy as a whole. Consider the companies that manage public schools for a profit. They continue to face intense opposition from teachers' unions and other critics. But H. Christopher Whittle, CEO of Edison Schools Inc. (EDSN ), the largest for-profit schools operator, still expects revenues to soar 42%, to more than $500 million, in the fiscal year ending June 30. And on December 21, after an acrimonious debate, school privatization got its biggest boost yet when the state of Pennsylvania took over the deeply troubled Philadelphia school system. As part of the takeover, Edison expects to receive a contract to manage 45 of the city's schools.
A renewed federal focus on school reform will also help industry. "There's no question that passage of President Bush's education bill will propel growth" among for-profit companies in the kindergarten-to-12th-grade sector, says Whittle. True, Congress refused to approve vouchers that parents could use to send their children to private schools. But the bill will prod alternatives such as charter schools, which are publicly funded but can be run by private companies. Meanwhile, the bill's requirement that children be tested annually in grades 3 through 8 will create a bonanza for testing companies. Over the next five years, hundreds of millions of dollars will be spent "to help teachers and administrators prepare for these tests," says Jonathan Grayer, president of test-prep leader Kaplan Inc.
Equally strong tailwinds are behind companies such as Education Management Corp. (EDMC ) and Apollo Group Inc. (APOL ), which provide post-secondary education to working adults. The recession will help boost enrollment at schools such as Apollo's University of Phoenix because more workers look to retool during downturns. Fred McCrae, an education analyst at Thomas Weisel Partners LLC, thinks post-secondary outfits "should grow earnings 20% to 25%."
In contrast, there won't be much growth in the $32 billion industry that provides corporate training, predicts Gregory M. Priest, CEO of SmartForce PLC (SMTF ). This area will suffer as Corporate America continues to cut costs. But companies that provide training over the Internet, such as SmartForce, will shine. E-learning spending by companies should grow 73%, to $7.3 billion, predicts International Data Corp. And once workers are exposed to e-learning on the job, they're increasingly turning to institutions that allow them to earn college degrees online.
To be sure, the plunge in venture-capital funding triggered a brutal shakeout in 2001. "Most of the companies built on bad ideas over the past three years are gone," says Peter Stokes, an executive vice-president at Eduventures. But for the survivors, the outlook is bright. "For-profit companies will play a larger and larger role in education," says Gregory W. Cappelli, an analyst at Credit Suisse First Boston. Looks like the handwriting is on the classroom wall.
By William C. Symonds in Boston
Before it's here, it's on the Bloomberg Terminal.
LEARN MORE