Drugs: Hardball in Washington, Mergers in Biotech
Michigan, Florida, and other states are taking steps to wrestle big discounts from major drug companies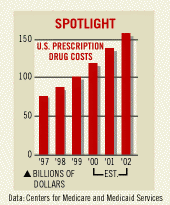 For drugmakers, 2002 will be a decent year, but it's unlikely to break any records. While government statistics show drug expenditures rising some 16% in 2001, the pace should cool a bit with the total hitting $155 billion in 2002--a 14% increase.
Part of that slowdown will stem from the patent expirations of some major products, making room for cheaper, generic versions. The patent expirations are compounded by what Larry N. Feinberg, managing partner for health-care hedge fund Oracle Partners LP, describes as "a lackluster new product pipeline for the next few years."
That's not to say some new products won't make a splash. In late 2001, Eli Lilly & Co. (LLY ) rolled out a new drug called Xigris to treat sepsis, the deadly damage caused by the body's overwhelming response to infection. The drug could rack up $1 billion in sales by 2005, according to SG Cowen Securities Corp. Another eagerly awaited drug is Crestor, the latest cholesterol-lowering agent, from AstraZeneca PLC (AZN ). And two new painkillers, part of the hot new class of drugs called Cox-2 inhibitors, could be big sellers in 2002. Pharmacia Corp. (PHA ) will launch Bextra in early 2002, while Merck & Co. (MRK ) is likely to follow with Arcoxia later in the year. Both drugs could reach $1 billion or more in annual sales within four years.
While a lot is riding on these product launches, the industry has just as much at stake in its ongoing political battles. The biggest threat is the growing movement by some states, such as Michigan and Florida, to cut their ballooning prescription drug bill for programs such as Medicaid. These states have passed laws or taken other steps aimed at wrestling big discounts from major pharmaceutical companies. The drug industry's trade group has already challenged some of these measures in court, but more states are sure to push such programs as the recession puts additional strain on budgets. "States are getting much more aggressive in the types of rebate concessions they are demanding," says Robert A. Freeman, senior director of public policy at AstraZeneca.
The risks drugmakers face in Washington, while not as immediate, are certainly real. In 2002, Congress must renew the 1992 law that created an industry-funded drug-approval system for the Food & Drug Administration. Political experts figure generic drugmakers and others will try to attach additional legislation to the bill aimed at closing loopholes that now let drug companies delay generic versions of big-selling products. That effort could gain momentum when the Federal Trade Commission releases a report in the spring on whether certain industry practices have inappropriately delayed generic competition.
Still, most say that debate--as well as any discussion of a Medicare prescription drug benefit--may not lead to legislative action. "With the elections, 2002 will be a politically charged year," says Eli Lilly Chairman and CEO Sidney Taurel. "I doubt we'll get to the level-headed compromise that is needed on these [issues]."
Going into the new year, the industry may actually have extra leverage in Washington, thanks to its new role in fighting bioterrorism. In the wake of the anthrax attacks last fall, drugmakers offered Uncle Sam everything from free antibiotics to extended access to biomedical researchers and labs. But analysts say the recent government contract for large-scale production of a smallpox vaccine, which was at a much lower price than Wall Street expected, shows how hard the government will push to keep its costs down. Says Raymond V. Gilmartin, chairman and CEO of Merck & Co.: "I don't think [these contracts] will significantly change the growth rate of companies" in the industry.
A much larger impact is likely to be felt from consolidation. The past year saw continued dealmaking, led by Bristol-Myers Squibb Co.'s (BMY ) $7.8 billion purchase of DuPont's pharma operations. Companies with weak new-product lineups and midsize operators that need to bulk up their research and marketing will do more deals. Schering-Plough (SGP ) is a possible target. It's dwarfed in size by giants like Pfizer (PFE ) and GlaxoSmithKline (GSK ) and has been dogged recently by regulatory woes related to its manufacturing processes. "Clinical trials are so expensive now, and getting a physician's attention is very difficult," says Ben Bonifant, vice-president at Mercer Management Consulting Inc. "It's getting hard to be a midsize player."
The same pressures are triggering a wave of dealmaking in biotech. Amgen (AMGN ) struck a $16 billion deal in December to buy biotech star Immunex (IMNX ) in order to add Immunex' rheumatoid arthritis drug Enbrel to its lineup. There are plenty of other small biotechs with pipelines that could attract suitors. According to Samuel W. Murphy III, senior securities analyst at American Express Financial Advisors, biotech companies over the next 12 to 18 months could launch 10 products with potential annual sales of $500 million to $1 billion each. Among the possible blockbusters are a new cancer drug from Idec Pharmaceuticals Corp. (IDPH ) and the just-launched anemia drug Aranesp from Amgen. "Size and critical mass are the key drivers of these deals," says Viren Mehta, a pharmaceutical analyst at Mehta Partners, of the recent merger wave.
For biotech players that want to remain independent, dealmaking will likely take the form of alliances and licensing arrangements. According to biotech consulting firm Recombinant Capital, biotechs saw $1.9 billion flow into their coffers in the first three quarters of 2001 from such alliances, up 14% from the same period in 2000. Much of the activity stemmed from deals that allow access to new technologies in emerging fields like genomics. However, big pharmaceutical companies have been turning to biotech to fill their pipelines with actual products. The most notable move in 2001 was initiated, once again, by Bristol-Myers, which is determined to solidify its lead in the cancer market. Bristol made a $1 billion investment in ImClone Systems Inc. (IMCL ) and agreed to pay another $1 billion for the right to co-promote the company's promising new cancer compound.
Mergers--and liquidations--are also likely to rise among companies that supply analytical tools and other technology to Big Pharma. Some of these suppliers may face a tough 2002 as their technology becomes obsolete, says Lloyd S. Kurtz, health-care analyst at money manager Harris Bretall Sullivan & Smith. Yet another reason pharmaceutical and biotechnology players will find 2002 a year of great opportunity--and great challenges.
By Amy Barrett in Philadelphia
Before it's here, it's on the Bloomberg Terminal.
LEARN MORE