Computers: More Torture for Tech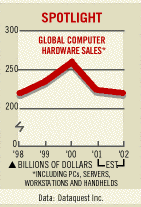 Meet Ross W. Holman, chief information officer of penny-pinching Southwest Airlines Co. (LUV )--a.k.a. Michael S. Dell's worst nightmare. All last year, Dell predicted that computer demand would snap back in 2002 as PCs bought to prepare for Y2K turn three, the usual retirement age. But Holman plans to keep his computers for four or even five years. It's one small way Southwest has stayed profitable in a pinch. And besides, as Holman notes, "we're not even using all the horsepower we have."
In 2002, frugal is still fashionable among tech buyers, and that spells trouble for the battered computer industry. As they wait out the recession, tightfisted corporations aren't loosening up from last year, when total sales of computer gear collapsed by 14.3%, hitting $221.5 billion. Consumers remain equally cautious. So from a diminished base, overall computer hardware sales are expected to fall 1.7% this year, to $217.7 billion, according to market watcher Dataquest Inc.
With the sector's growth potential flagging, consolidation is imminent. Wall Street's chilly reception to Hewlett-Packard Co.'s (HWP ) plans to merge with Compaq Computer Corp. (CPQ ) might put the kibosh on it and other big tech mergers for some time. But poor demand and price wars will force weaker companies to keep cutting back and cede key markets to stronger players, such as Dell Computer Corp. (DELL ) Already, profit woes have caused Toshiba Corp. (TOSBF ) to abandon the U.S. desktop market and Gateway Inc. (GTW ) to quit selling abroad.
For those left standing, it will be a slow ascent out of the doldrums. Take PCs: A year ago, manufacturers were bemoaning the end of the heady growth of PC sales. Now they'd be happy with any growth at all. Sales fell 16.5% last year, to $161.2 billion, the industry's first-ever decline. With corporate buyers like Holman content to hold on to their current PCs, the average life span of each unit is stretching beyond four years.
True, PC users who really want Windows XP may buy new machines with the software preinstalled. But so far, there's no stampede. And while PC makers want to believe that the proliferation of broadband Net connections will spur PC sales, some analysts are dubious. Waiting for that is "like watching grass grow," says Needham & Co. analyst Charles Wolf, who doesn't expect a PC resurgence until 2003.
Worse yet, the price wars that diluted last year's revenues rage on. PC price tags fell 10% in 2001, according to market tracker NPD Intelect, and they'll continue to drop until demand returns. Even then, buyers accustomed to bargains aren't apt to accept higher prices. The result: Although unit sales of PCs will rise slightly this year, revenues will fall 4.3%, to $154.3 billion.
One hot spot for hardware makers is small devices such as handhelds. And as wireless e-mail catches on, sales of handhelds--led by devices that run the Palm Inc. (PALM ) operating system--will grow a hearty 28%, to $4.6 billion, says Dataquest.
High-end computer makers will be green with envy. Companies are still trimming costs, and that's hurting server sales. In 2002, revenues in this arena will grow just 5.2%, to $52.7 billion, with the biggest gains in low-priced machines running Microsoft Corp.'s (MSFT ) Windows networking software. One reason for the sluggish rebound: The cost of an average server will fall 10%, to $9,900, after a 14.1% decline last year, says Dataquest's Jeffrey Hewitt. To jump-start sales, server makers such as IBM (IBM ), Compaq, and Sun are encouraging customers to spend now on more-efficient machines that can save big down the road.
Also under pressure are sales of high-capacity storage drives, but they're expected to bounce back faster. Companies looking to consolidate their stores of data on more efficient networked systems will help boost sales 12.9%, to $17 billion. That will leave the sector short of the $18 billion peak hit in 2000--and goad market leader EMC Corp.'s (EMC ) scramble to sell more disk drives, software, and services.
All this bad news is good for customers. Thanks to the recession, they are learning to keep info-tech spending under control. And those that do go shopping find a market laden with bargains. So long as the economy stays soft, tech's resurgence will be far out of sight.
By Andrew Park in Dallas
Before it's here, it's on the Bloomberg Terminal.
LEARN MORE