Chips: Nowhere to Go but Up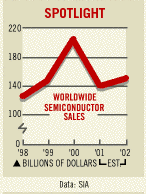 Flip the calendar back a year, and the semiconductor industry could hardly have imagined the carnage that awaited. Sure, PC sales had already tanked, but about 55% of all chips were going into other products--cellular phones, digital games and gadgets, and industrial equipment. Chipmakers thought the broader diversification would shield them from the vagaries of the PC business, which had long been a mercurial taskmaster, gobbling up more than half of all chips.
There was even hope that increasing market diversity would help insulate the sector from its historical boom-bust cycles. Sorry, guys. Weak consumer and corporate demand, excessive inventories, and a shaken U.S. economy slammed the brakes on the double-digit growth found during the go-go dot-com years. Chip sales skidded 31% last year--the worst downturn ever, according to the Semiconductor Industry Assn. (SIA).
Now, chip companies hope to take a page from The Little Engine That Could and climb out of the slump. Manufacturers that use chips to imbue their hardware with smarts are slowly placing new orders. And chipmakers such as Intel Corp. (INTC ) and Advanced Micro Devices Inc. (AMD ) are holding firm on prices--at least for now. What's more, consumers are pitching in to help. Holiday sales of notebook PCs, video games, and snazzy digital music players like Apple Computer Inc.'s iPod (AAPL ) showed surprising strength. Demand for consumer-electronics gear should help push global semiconductor sales up at least 6% in 2002, to $150 billion, the SIA predicts. Its confidence is buoyed by the slow but steady sales growth since last summer.
Still, nobody's celebrating just yet. Execs at companies such as Intel, Motorola (MOT ), and Texas Instruments (TXN ) say even though they're getting ready to deliver new technologies that make chips faster and less power-hungry, the economy is still the big unknown. "I wish I had a crystal ball," says Michael Ponzo, marketing director for Motorola Inc.'s digital signal processors unit. His best guess: After a slow start, 2002 will get better in the second half.
For microprocessors and memory chips, things could be looking up even if demand remains weak. Intel and rival AMD have held the line on chip prices, a turnaround from the intense tit-for-tat battles that forced them to cut thousands of jobs and sent their stock prices tumbling. If prices hold firm through 2002, gross margins should improve, says Intel Chief Financial Officer Andy D. Bryant. Meanwhile, memory-chip suppliers such as NEC (NIPNY ), Micron Technology (MU ), and Hynix Semiconductor (HXSCF ) (the result of the Hyundai-LG Semicon merger) are scrambling to negotiate alliances and consolidate manufacturing to rid themselves of the surplus capacity. Giant Toshiba Corp. (TOSBF ) is going further, announcing plans to back out of commodity memory chips altogether.
Much of the action this year is expected in chips for wireless gear, especially cellular phones. As next-generation wireless networks are deployed to give consumers better access to the Internet, Yankee Research Group Inc. estimates about 435.7 million handsets will be sold in 2002, up about 10% from last year's 395 million units. That could help give the market some much-needed pep, particularly since handsets use about 7% of all chips. And cell phones aren't the only hot gadgets. At a Morgan Stanley Dean Witter & Co. conference in December on information-technology spending, chief information officers were keen on Internet-capable handhelds such as Compaq Computer's iPaq (CPQ ), Research in Motion's BlackBerry pagers (RIMM ), and new cell phone-computer combos like Handspring's Treo line (HAND ).
The wild cards, though, are chips for traditional wired telecom and Internet equipment. Asian foundries, notably Taiwan Semiconductor Manufacturing Co. (TSM ), are still saddled with massive overcapacity, but things are starting to pick up, says Merrill Lynch & Co. analyst Mark Lipacis. For telecom chip vendors such as Broadcom Corp. (BRCM ) and Conexant Systems Inc. (CNXT ), 2002 could be financially rough because most orders have been for low-end products, not the high-end specialty chips that bring juicy profits. "Looking past [March], there is optimism but no visibility," Lipacis says. At a time when the chips have never been more down, that's almost uplifting.
By Cliff Edwards in San Mateo, Calif.
Before it's here, it's on the Bloomberg Terminal.
LEARN MORE