Banking & Securities: Still Tightening Those Belts
We're focused on productivity gains and expense controls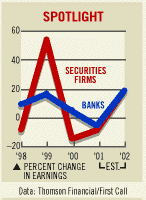 Outside of Tech Land, few sectors benefited from the economic boom of the 1990s as much as financial services. Wall Street's investment bankers raked in lush profits from underwriting a torrent of dot-com stock offerings. The fortunes of brokers and mutual-fund managers rose with each uptick in the Dow Jones industrial average. And the commercial banks enjoyed a lending boom fueled by Americans' unbridled willingness to borrow.
In 2001, the pendulum swung. First came the shock waves of the twin tech and telecom crashes. Then came the physical and financial trauma of the World Trade Center attack--and the deepening recession in its aftermath. In the once-lucrative underwriting and mergers arena, deal volume was down 56% through November and equity underwriting revenues were off by 25%. That has left Wall Street wrestling with high overheads, which continue to erode earnings. Pretax profits for New York Stock Exchange member firms plunged 51% in 2001, to $28.2 billion, on a 20% decline in revenues, according to the Securities Industry Assn. Next year should be better, thanks in part to aggressive cost-cutting on the Street. Pretax profits are expected to recover 13%, to $32.1 billion--better, but still a far cry from the industry's peak earnings in 2000 of $58 billion.
In 2001, banks that take deposits--and that includes everything from neighborhood savings and loans to behemoths such as Citigroup--saw profits slide by 5%. And the news will worsen through the first half of this year. Bert Ely, president of Ely & Co., a Washington consultancy notes that the recent surge in corporate bankruptcies--including the $50 billion filing by Enron Corp., the largest ever--may foreshadow a near-term rise in problem loans at banks. "I don't think we've seen the bottom of the credit cycle," says Ely. Against this backdrop, Andrew B. Collins, banking analyst at U.S. Bancorp Piper Jaffray, believes that loan chargeoffs could rise in 2002 to 1.09% of all outstanding loans, vs. 0.97% in 2001. That's a significant swing for an industry that already survives on razor-thin margins.
It's not all bad news, though. The Federal Reserve Bank's aggressive pursuit of lower interest rates, which reduce the industry's borrowing costs, is helping to offset the banks' lending woes. Assuming a rebound in the second half, analysts surveyed by Thomson Financial/First Call expect bank earnings to rise by as much as 25% in 2002.
The worst may already be over for Wall Street. Some underwriters are hoping that the December rally in stocks is a sign that investors are returning to the game. Mark Connelly, head of U.S. equity capital markets at UBS Warburg, views the heavy number of stock offerings by biotech companies scheduled for January as a sign that "the appetite for risk is increasing, which bodes well for markets." Still, with the broader economy showing only tentative signs of recovery, many Wall Street execs aren't ready to commit serious capital ahead of the upturn. Says Richard S. Fuld Jr., chairman of Lehman Brothers Inc.: "A lot of the world is calling for the beginning of the next bull market. I believe that, but I'm not managing the company to that. I believe there could be some more pain."
Just in case he's right, Wall Street is reining in operations. Bonus payments, which in a good year can be more than half of a banker's total pay, fell by 30% in 2001, to an average of $60,000 for each of the securities industry's 165,000 employees. And more than 30,000 investment bankers and other white-collar workers have already been laid off. Globally, firms will continue to scale back the sprawling empires they erected during the go-go Nineties.
Bank managers are following suit. Threatened by a shrinking loan market, their preferred antidote is cutting costs. Bank of America (BAC ) recently slashed 600 jobs, on top of 10,000 cuts announced in mid-2000, while imposing travel restrictions and other measures. "We're focused on productivity gains and expense controls," says BofA CEO Kenneth D. Lewis.
Whether these sweeping cutbacks prove sufficient depends on the timing of the recovery. That could come as soon as this fall, some analysts believe, given the Fed's 11 rate cuts through 2001. The flood of liquidity has helped propel a mortgage-refinance boom that should continue to boost banks' bottom lines. And with the plunge in interest rates raising the relative value of their holdings of bonds and other fixed-income investments, Collins notes that the 30 largest banks are now sitting on an average of $291 million in unrealized securities gains in their portfolios.
Even if things don't pick up fast, the banking industry is far better prepared to weather a downturn than in the early 1990s, when thousands of banks and thrifts failed. Banks are more geographically diversified now, so local shocks don't hurt as much. Stricter capital standards enacted after the thrift crisis also help. These days, the 30 largest U.S. banks have about $52 billion in excess capital, vs. a meagre $2 billion in 1990. Banks are getting better at hedging their corporate loan portfolios, too. Thanks to the spread of syndicated lending, the industry's exposure to Enron is shared by some 50 banks and 30 insurers.
Indeed, the banks' biggest headaches are likely to come not from corporate borrowers, but from consumers. The number of mortgages that are past due has risen to 4.9% of all outstanding home loans, a full point higher than a year ago. The number of foreclosures climbed 20% in the past year. And with unemployment still headed up, defaults will follow right along. More troubles may loom on the credit-card front. Already, late payments on cards rose to 5.3% in October, and with the average household now sitting on more than $8,000 in card debt alone--versus just $3,000 in 1990--lenders could be particularly vulnerable here if the deepening recession causes more consumers to renege on their card balances.
With so much of the industry on the knife's edge, any bank or brokerage that stumbles could quickly become takeover bait. "We have not run the course with bank consolidation," predicts Ely. Indeed, Merrill Lynch & Co. (MER ) is rumored to be talking with Bank of America and others, and many believe the days may be numbered for regional banks and brokers. As the high wave of the 1990s recedes into history, bankers and brokers in 2002 will be watching for the riptide.
By Dean Foust in Atlanta, with Emily Thornton in New York
— With assistance by Emily Thornton
Before it's here, it's on the Bloomberg Terminal.
LEARN MORE