Autos: 0% Financing is a Risky Addiction
We borrowed from the future, so the first quarter is squat, one economist says of the cheap come-ons. Longer term looks hazy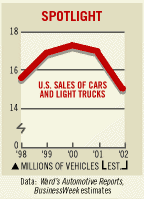 Norman Herbert had been planning to trade in his 1992 Pontiac Transport minivan for a new model next spring. "The van was getting shaky, but I would have tried to get it through one more winter," says the Sterling Heights (Mich.) dentist. Then the flood of 0% loans that domestic carmakers unleashed to jump-start sales after September 11 lured him into a showroom months ahead of schedule. In October, Herbert drove home a new 2002 Pontiac Grand Prix GT.
Detroit can thank consumers like Herbert for the fall's rip-roaring sales rate. At the height of the financing frenzy, autos were moving at an annualized pace of 21 million units, breaking a monthly sales record set in 1986. However, the generous incentives are sapping Motown's bottom line, in what Morgan Stanley Dean Witter & Co. analyst Stephen J. Girsky calls "profitless prosperity." Thanks to 0% financing, an estimated 1 million Americans bought sooner than planned, setting up a future sales vacuum. "There's got to be some payback," warns Nick Scheele, Ford Motor Co.'s (F ) chief operating officer.
Even by the final weeks of 2001, the hangover from the 0% party was beginning to drag down sales. And most industry watchers expect that queasy feeling to continue well into the new year. "We borrowed from the future, so the first quarter is squat," says Diane C. Swonk, chief economist at Bank One Corp. (ONE ) in Chicago. She predicts that auto sales in the first quarter of 2002 will drop 12% from December levels, to a 14.6-million-vehicle annual pace. Still, Swonk and most economists look for an upswing to begin by midyear. Says Tom Elliott, executive vice-president of American Honda Co.: "We think it'll be off quite a bit in the first half and then recover in the second half."
Ask car execs and auto analysts how strong the summer rebound will be, however, and opinions diverge sharply. Estimates for 2002 U.S. auto sales range from 14.8 million cars and light trucks--which would be the lowest level since 1995--to a robust 16.8 million vehicles. The high end is just short of the 17 million sold in 2001, the second-best year in auto history. Sighs Scheele: "It's a very hazy outlook."
Certainly, an economic recovery would help auto sales rebound. For one thing, interest rates remain low, which matters to people who lease or borrow to buy a car. And auto affordability hovers near a 22-year low: Detroit's Comerica Bank (CMA ) figures a new vehicle costs an average of 24 weeks of pay. Toss in the emotional response of consumers who began to treat buying cars as a patriotic act after September 11, and you have the makings of a comeback. "The marketplace has defied predictions," says Christopher W. Cedergren of Nextrend Inc. in Thousand Oaks, Calif.
Sales could just as easily go the other way. Fewer people will be eager to buy cars or other big-ticket items as the recession really begins to bite. "We're heading downhill," says auto consultant Susan Jacobs of Jacobs & Associates in Rutherford, N.J. "The aftereffects of the declines in employment, consumer confidence, and a sluggish stock market still have to work their way through the system." Her most optimistic forecast for auto sales this year is 15.3 million vehicles, a 10% decline from 2001.
Even if sales rebound to healthy levels, auto makers' profitability will remain in jeopardy. Lately, car companies have had to pile on more rebates, cut-rate loans, and sweetened lease deals to keep sales strong and factories humming. Incentives from auto manufacturers were averaging upwards of $2,300 per vehicle by the end of 2001--nearly 25% higher than levels before September 11, according to CNW Marketing/Research in Bandon, Ore.
General Motors Corp. (GM ) didn't help the profit picture when it launched 0% loans in late September. Ford (F ) and DaimlerChrysler (DCX ) followed like lemmings, fearing they'd lose market share if they didn't. So much for ending Detroit's addiction to incentives. These loan wars only reinforced the vicious cycle in which consumers stop buying as soon as the deals end, forcing carmakers to jump in with even bigger rebates. "It's a nightmare," says Art Spinella, CNW's general manager, who predicts that higher rebate levels are here to stay.
Those in the strongest position for 2002 are players such as Toyota (TM ), Honda (HMC ), and Volkswagen (VLKAY ), which shunned 0% deals or limited their use. Toyota used them for just a handful of models--"the first national incentive we've had in years," says James E. Press, chief operating officer of Toyota Motor Sales. "It won't be repeated--it was an extraordinary 9-11 thing."
A few segments remain strong. Sales of sport-utility vehicles and other trucks are likely to keep rolling. And despite early fears that a Mideast war would crimp U.S. oil supplies, sales of these gas-guzzlers have continued unabated. That's partly because prices at the gas pump--under $1.15 per gallon recently--hover near an inflation-adjusted 82-year low, according to the American Petroleum Institute.
The rising popularity of SUVs and trucks, however, brings its own headaches for Detroit. As German, Japanese, and Korean competitors roll out an ever-growing array of SUVs and trucks, Detroit's fat profit margins in the sector have grown leaner. One sign is the escalation of rebates it takes to keep truck sales revved up. The average combined incentives from manufacturers and dealers ran about $3,500 per truck by late 2001, up some 40% from a year earlier, according to CNW.
Shrinking truck profits were just one of Ford's myriad troubles last year. Sliding market share, poor quality, and the continuing recall of Firestone tires used on its Explorer SUV contributed to an estimated $880 million operating loss for 2001. Ford will unveil a major restructuring plan in mid-January to try to get back on track. Wall Street is hoping the revamp will translate into a modest $641 million profit this year, according to Thomson Financial/First Call's consensus of analyst forecasts.
GM ended 2001 riding high. It wrested dominance in trucks and SUVs from archrival Ford and was expected to rack up a small gain in overall U.S. market share--up 0.1 point, to 28.4%--for the first time in more than a decade. Still, declining volume is expected to trim GM's 2002 profit to $1.1 billion, vs. an estimated $1.8 billion last year, according to First Call. Doing even that well will require hanging on to precious market share. "We are going to focus on share this year," vows Gary Cowger, GM's president of North American Operations.
DaimlerChrysler could also be making headway in its turnaround. The parent is on track to earn $1.9 billion in 2002, up from an estimated $762 million last year, analysts figure. But that's contingent on the Chrysler unit continuing to cut costs and sell assets after 2001's $3.9 billion restructuring.
It's a tricky balancing act: slashing costs in order to grow, juggling profitability with rebates. And it will make 2002 one of the most difficult years carmakers have faced in a decade.
By Kathleen Kerwin, with Joann Muller and David Welch, in Detroit
Before it's here, it's on the Bloomberg Terminal.
LEARN MORE