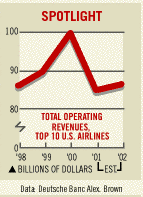 For the beleaguered U.S. travel industry, the outlook for 2002 is either bad or downright ugly. It all depends on how quickly the nation's business travelers get moving again. The timing and strength of the recovery will be one factor. But the industry must also reckon with travelers' post-9/11 fears and the hassle factor created by new security measures at the nation's airports. "All of it is fairly depressing," notes Philip A. Baggaley, airline analyst at Standard & Poor's.
Bad as the prospects are, however, 2002 will likely be better for the airlines than last year. In 2001, some carriers were pushed to the edge of bankruptcy by the aftershocks of the terrorist attacks. Not factoring in the government's $5 billion bailout, operating losses for the top nine carriers totaled an estimated $7 billion on revenues of $84.7 billion, which fell 15% from 2000, says analyst Susan M. Donofrio of Deutsche Banc Alex. Brown Inc. The red ink will continue to flow in 2002, she predicts, with operating losses of $2.4 billion on $86.2 billion in revenue. Only by 2003, if all goes well, will carriers see operating profits: $3.7 billion on revenues of $99.7 billion.
Some carriers are poised to do better than the pack. Southwest Airlines Co. (LUV ) is likely to show a profit this year, thanks to its low-cost business model. "Low fares work in our favor in a weaker business travel environment," says CFO Gary C. Kelly. And Gordon M. Bethune, CEO of Continental Airlines Inc. (CAL ), predicts he'll outpace many rivals, thanks mostly to a better product and "foolish" cost-cutting by competitors, who are dropping even bare-minimum amenities such as in-flight meals and magazines. He anticipates a profitable second quarter; analysts foresee a net loss for the year.
One thing is sure to help the industry. In the wake of the terrorist attacks, airlines cut capacity 20% by flying some planes less each day and mothballing others. Of these, American Airlines (AMR ) CFO Thomas W. Horton figures the oldest planes will not return to service. Industry capacity, then, could be down 6% by the end of next year, compared with pre-September 11 levels. With less capacity and an economic pickup, "You can build a case for a decent recovery in the airline industry," says Horton.
There's also a little blue sky in the cost picture. Fuel prices are falling, and the industry's bleak financial outlook has put a lid on labor's wage demands. Indeed, analysts figure United Airlines (UAL ) and US Airways Group Inc. will win givebacks this year from labor to help them stay in the air. That could set a pattern for others to follow.
Some analysts think weak carriers such as America West Airlines and US Airways could be forced to restructure or merge in 2002. But who would buy them? Even the biggest players are losing money and would face steep resistance from labor unions, as long as their own members remain laid off. The fates of the weakest will be decided, in part, by how the federal government chooses to dole out $10 billion in loan guarantees.
When airlines struggle, hotels suffer, too. Consultant Bjorn Hanson of PricewaterhouseCoopers notes that 64% of journeys involving a hotel stay include an airline trip. This year, occupancy will sink to 59.6%, the lowest level since 1971. And revenue per available room will drop 0.2%--on the heels of a 6.7% decline in 2001, the worst drop since the Great Depression. After plummeting 27% last year, total industry profits should grow a weak 1.8%, to $17.1 billion, on revenues of $110.5 billion, thanks in part to some cost-cutting.
Compared to their brethren in the hotel and airline businesses, car rental executives have far more flexibility in adjusting capacity to demand. Avis, owned by Cendant Corp. (CD ), for instance, has cut its fleet to about 170,000 cars from 230,000 since August. Similar moves by its competitors have helped support recent efforts to raise rental rates. Even so, because of the severe slowdown in business travel, average rates will fall about 4% this year, says David A. Romano, senior director of revenue management at Budget Group Inc. (BD ) Cheap plane tickets, discounted hotel rooms, and cut-rate rental cars: It means that for the first time in years, business customers have everyone in the travel industry over a barrel.
By Wendy Zellner in Dallas
Before it's here, it's on the Bloomberg Terminal.
LEARN MORE