Agribusiness: Better, but No Bumper Year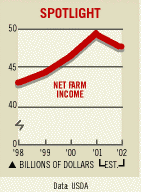 In 2001, U.S. prices for cotton, rice, soybeans, and other farm commodities languished at historic lows. So despite big harvests, revenues shrank across the agricultural sector, sparing neither farmers nor equipment makers. This year will be better, but just a little. Prices won't rebound much because more countries are trying to boost exports of farm products to combat the global economic slowdown. "We've got a lot of competition in the world," says Keith Collins, chief economist for the U.S. Agriculture Dept.
The $206 billion agribusiness sector could be in for a few pleasant surprises, however. Corn prices may firm up faster than expected because many farmers have switched from corn to soybeans, a crop that carries a bigger subsidy. As a result, corn stockpiles are now being depleted to meet demand. Producers also stand to get a welcome increase in price supports if a new farm bill is enacted. And farmers are cheered by the prospect of huge new markets in China.
Nonetheless, such bright spots are the exception. Even for soybeans, one of America's main cash crops, prices will linger at all-time lows. To be sure, more soymeal protein is being fed to animals in Europe and Asia amidst ongoing concerns about mad cow disease. Big soybean crushers such as Archer Daniels Midland (ADM ), Bunge (BG ), and Cargill are going after that market. But Latin American soybean farmers, who have steadily gained market share at the expense of U.S. producers, will likely satisfy much of the demand. Agriculture's Collins wonders whether subsidies are sustainable and whether they "really help American agriculture meet the emerging competition."
Prospects in the $42 billion cattle industry are hardly any better. Although strong demand and tight supplies in the cattle market sparked a 10% increase in retail beef prices at the beginning of 2001, demand fell as the economy weakened--then sank even further after the terrorist attacks of September. Mad cow disease is another drag on consumption. U.S. herds have been spared so far, but a handful of cases have surfaced in Japan--the largest foreign market for U.S. beef. Charles D. Lambert, chief economist with the National Cattlemen's Beef Assn., worries about continued weakness in 2002.
As the farm economy sputters, equipment manufacturers such as Deere & Co. (DE ) anticipate another year of sluggish sales. Deere reported losses of $64 million for its fiscal year ended Oct. 31. Overall, sales in the $10 billion North American farm-equipment industry may fall as much as 5% from 2001 levels. One factor dampening demand is uncertainty over the next farm bill. The 1996 bill expires this year, and lawmakers are wrangling over a new one. "If you don't know what's coming, you don't make capital investments like you would if commodity prices alone drove that decision," says Mogens C. Bay, chairman of Valmont Industries (VALM ), a maker of irrigation systems in Omaha.
On the bright side, China's entry into the World Trade Organization is creating opportunities for embattled U.S. farmers. John W. Skorburg, an economist at the American Farm Bureau Federation, says that Chinese imports of soybeans could rise steeply--from about 13 million metric tons this year, to 15 million by 2005. By then, he also expects China to turn from an exporter to an importer of corn. Rising incomes in China should stimulate demand for wheat, beef, and poultry as well, Skorburg says. But that's the future. In 2002, farm exports are likely to grow only slightly, to $54.5 billion.
Genetically modified foods remain a wild card. American farmers are planting more bioengineered seeds than ever before, and the Europeans are protesting less, says Tim Stocker, head of regulatory affairs in Europe for seed company Pioneer Hi-Bred International Inc. Now, there's new hope within U.S. agribusiness that the European Union will move forward on proposed food-labeling laws that would tacitly recognize the safety of engineered foods. Wider acceptance there--or in Asia or Latin America--could spark new growth in U.S. exports.
The big wait-and-see issues for this year will be the farm bill and the recession. A recovery, or some well-placed subsidies, could go a long way in dispelling the gloom hanging over U.S. farms.
By Julie Forster in Chicago
Before it's here, it's on the Bloomberg Terminal.
LEARN MORE