Advertisers Are Still Hiding Out
Look for more cable and satellite TV mergers as midsize players bulk up to address the growing demand for digital services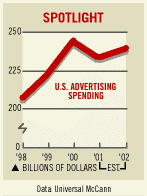 Welfare mother and aspiring author J.K. Rowling probably wasn't thinking of media industry returns when she sat down in 1990 to write a fantasy novel about an 11-year-old wizard. But Harry Potter ended up being about the only magic in an otherwise dreary 2001 for the media and entertainment business. Warner Bros.' movie adaptation of Rowling's Harry Potter and the Sorcerer's Stone is expected to pull in $400 million in box office receipts by yearend and upwards of $250 million in sales of Potter paraphernalia ranging from broomsticks to video games.
While Rowling and Warner triumphed, however, the rest of the media world suffered through its toughest year in a decade. Total U.S. media revenues contracted by $10 billion to $575 billion last year, knocked backward by the one-two punch of the post-dot-com advertising crash and the terrorist attacks. And although 2002 will be better, the media world will be hard-pressed to grow by more than 5%, forecasts media merchant bank Veronis Suhler & Associates--down from an annual growth rate of about 8% between 1995 and 2000.
This year does promise a few hot tickets. Still-sizzling sales of older movies on DVD and a lineup of potential big-screen blockbusters that include new installments of Star Wars, Harry Potter, and James Bond are some of the likely high points. And there should be some heavy action on the deal front, where consolidation in the cable and satellite TV world will likely prompt a new round of mega-mergers. "The patients may have been wounded, but they are up and taking nourishment," says UBS Warburg media analyst Christopher Dixon.
Media companies have developed various new revenue streams over the years, from subscription sales to licensing fees. But ad spending is still the lifeblood for most of the industry. So it's hardly reassuring that advertising will rebound only modestly this year. After a banner 2000, when advertising expanded by 10%, ad expenditures shrank by 4% in the U.S. in 2001, according to media buyer Universal McCann. Worldwide, the sector retreated by 1.7% in the same period--the first global decline suffered since World War II.
This year the industry will see a little relief, with a modest anticipated rise in worldwide advertising of 2.2% to $466 billion. Still, ad buys for midterm elections and the Winter Olympics in Salt Lake City will likely give the ad sector a jolt, but mainstream spending may not pick up until later in the year. And the once-heralded sector of Internet advertising will be flat this year at $4.1 billion, according to Universal McCann. "The gloom will hang around at least until the third quarter, if not later," says James DePonte, a media consultant at PricewaterhouseCoopers. The media sectors most heavily hit, figures DePonte, will be magazines, radio stations, and network TV.
Slack ad sales will likely force media companies to continue to trim operations and lay off workers, following a year in which about 100,000 workers in media and advertising received pink slips. Surviving media players will no doubt also increase their search for merger partners with whom to share costs. Consolidation in the magazine world, in which more than 90 titles folded in 2001 (vs. 37 in 2000) will likely accelerate, figures Peter Kreisky, president of Boston-based Kreisky Media Consultancy. Another likely deal may involve internet service Yahoo! Inc. (YHOO ), which has been restructured under new CEO Terry Semel. Its 68 million visitors are being eyed by major media players Viacom Inc. and France's Vivendi Universal (V )--and possibly the Walt Disney Co. (DIS ), as well.
The biggest deals, though, will probably be in the TV world, where Comcast Corp.'s (CMCSA ) purchase of AT&T's (T ) cable systems could prompt a wave of couplings. Smaller players such as Cox, Charter (CHTR ), and Cablevision (CVC ) will surely be looking for merger partners to achieve greater scale. Echostar Communications Corp.'s (DISH ) deal to buy General Motors Corp.'s DirecTV satellite service will face tough antitrust questions in Washington, and losing bidder Rupert Murdoch's News Corp. (NWS ) may still emerge to make an offer. Family entertainment broadcaster Paxson Communications Corp. (PAX ) may also be on the market after the 65-station TV group filed suit to free itself from 32%-owner NBC.
The winners in the consolidation wave are hoping to sell movies-on-demand, home shopping, and other interactive TV services to subscribers who are finally being offered digital TV. The number of viewers paying up for digital cable will grow to 20.2 million this year from 12.3 million in 2001, estimates Pricewaterhouse Coopers. Combined with an increase in satellite TV customers, some 41 million homes--or about 40% of all TV households--will have a digital signal by yearend, according to consultants the Carmel Group.
All told, consumers will spend $37.6 billion on cable and satellite services in 2002, says Pricewaterhouse Coopers, a 10.6% hike from last year. New services for cable consumers will include Movies.com, a movies-on-demand service from Disney and Fox Entertainment group. Eager to bypass Blockbuster, three studios--Sony, Universal, and Warner Bros.--will also offer a movies-on-demand service, called moviefly, over both digital cable and the Internet.
Getting such digital services up and running can be tough, though. Just look at the music industry, which after several delays finally launched rival online subscription services late last year, even as music sales worldwide slumped. Downloads from pirate sites were a factor contributing to an 11% decline in U.S. music sales in 2001, to $32.8 billion, says Merrill Lynch & Co. This year's estimated decline: 3.4%.
With ad sales still uncertain, the media world this year will look to its often-risky Hollywood units for growth. More than 58 million U.S. homes are expected to have DVD players by the end of 2002, and consumers are expected to spend $9 billion to buy DVDs--a 33% hike from 2001, forecasts Adams Media Research. By contrast, U.S. homes are expected to spend $5.4 billion on videocassettes, a 14% decline from 2001. And Hollywood has more hits coming. Likely blockbusters in 2002 will include follow-ups to Austin Powers, Men In Black, and Stuart Little, as well as Star Wars Episode II: Attack of the Clones. Steven Spielberg will deliver his futuristic Minority Report, starring Tom Cruise. Harry Potter will also lend a hand, with another film expected around Thanksgiving.
This time, the industry is hoping the little wizard gets some help from other films, so he can conjure up a stronger rebound for the media world.
By Tom Lowry in New York and Ronald Grover in Los Angeles
Before it's here, it's on the Bloomberg Terminal.
LEARN MORE