Six Signs of Recovery
Not all tea leaves are created equal. Some reports do foreshadow upturns
ECONOMIC INDICATORS
Consumers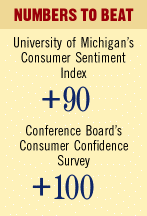 Consumer spending is the linchpin of this economy, and happy consumers tend to spend more than pessimistic ones. So watch these two reports: The University of Michigan's Consumer Sentiment Index, released twice a month, and the Conference Board's Consumer Confidence Survey, out on the last Tuesday of each month. Both indicators plunged in recent months. You'll know when consumers are feeling better when Sentiment readings--now at 85.8 --are consistently above 90, and when Confidence--now at 82.2--rises above 100.
Jobs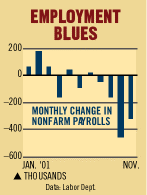 Few things make consumers happier than knowing that the labor market is healthy. That's why the Labor Dept.'s employment report, released the first Friday of every month, is worth watching. Zoom in on the change in nonfarm payrolls. The latest report shows that jobs plunged 331,000 in November. A sign of an economic rebound will be back-to-back monthly increases in nonfarm payrolls.
Capital Goods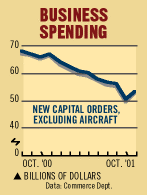 Business spending, especially on equipment, has to kick in if the economy is to bounce back, so keep an eye on capital-goods orders. It's a component of the Census Bureau's durable-goods orders report released at the end of each month. A consistent rise in capital-goods orders, excluding aircraft, will be a good indication that business spending on equipment is turning around.
STOCK MARKET INDICATORS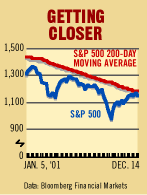 Momentum
One sign of a bull market is that investors are willing to pay higher prices. That's why market pros watch the 200-day moving average of the Standard & Poor's 500-stock index. To calculate it, add up the closing index prices for the past 200 trading sessions and divide by 200. When the current price is higher than the average--and stays that way--it's a bullish sign. The 200-day moving average can be found each week on BW's Investor Figures of the Week page.
Breadth

A rising market index doesn't mean much if all the gains are in a few stocks. You need to look at the market's breadth by comparing the daily number of advancing issues to the number of declining issues on the New York Stock Exchange. In early stages of bull markets, there has usually been one day, and sometimes two or three days, within a few weeks' span when advancing issues were five times greater than declining issues. Since the Sept. 21 low, advancing issues have only been 3.6 times greater.
Sentiment

Excessive pessimism often brings in the bulls. That's why we track the trading of "put" and "call" options. Put buyers are bears, call buyers are bulls. A weekly average of the put-call ratio is in BW Investor Figures of the Week. When the stock market is making a bottom, this ratio is at least 0.9. During market pullbacks, watch for the ratio to meet or break 0.9. That will be a sign that prices have room to rise.
Before it's here, it's on the Bloomberg Terminal.
LEARN MORE