Table: Whirlpool Appliances
OLD DESIGN
Different control panels for every appliance. Shape and color of buttons or dials do not relate to function. One microwave offers 75 functions--many of them too complex to use.
NEW DESIGN
Control panels now have a common look, feel, and function. Graphical user interface allows layering of functions so all buttons are not on the surface. A microwave user can now access 250 functions in less time, with 30% fewer errors.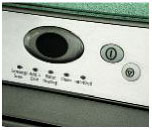 Before it's here, it's on the Bloomberg Terminal.
LEARN MORE