Renting vs. Time-Shares
We crunched the numbers on both. You may be surprised at the results
If you fancy a golf vacation every year, a resort time-share may be a good option. Time-sharing lets you purchase the right to use a room or condo during a given week each year, and offers golfers access to world-class courses along with discounts on greens fees and cart rentals.
"I've played golf in Hilton Head and Kauai and California, and the resorts are always so well maintained and have great entertainment," says Beverly Krueger, of Fort Myers, Fla. She often trades her Lake Forest Resort time-share in Eagle River, Wis., for a stay at another golfing locale.
OTHER COSTS.
  Krueger can afford to be satisfied: She paid just $2,700 for her time-share 20 years ago. But prices are much higher today--$11,500 to $150,000, for example, for a week at one of Walt Disney Co.'s five resorts, located in key golf destinations such as Hilton Head, S.C., and Orlando. More than ever, potential buyers need to get beyond high-pressure sales pitches and delve into the numbers.
For one thing, salespeople would have you believe that once you pay off the mortgage, in 5 to 10 years, your vacations are virtually free. That's true only if you fail to count the annual maintenance fee of $250 to $1,000--plus cleaning and repair costs. Should you choose to rent out your share, you may not cover your costs. Management fees can run as high as half the rent. Don't buy a share as an investment, either, since the resale market is soft.
To give you an idea of the difference between buying and renting, BusinessWeek did a cost analysis for an oceanfront, two-bedroom villa at Marriott's Barony Beach Club in Hilton Head (table). To own the villa for a peak week between June and September, it would cost $34,500. Rents go for $2,975 a week. Assuming the rental rate rises 7% a year, by year 10 you would be paying about $5,469 a week, and your total out-of-pocket cost for the decade would amount to $47,414. Compare that with the cost of the time-share in the 10th year: $5,903 for the week and $65,187 total.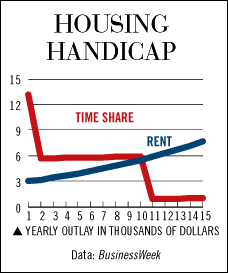 THE PAYOFF.
  Figured into the time-share total are the $6,900 downpayment, $595 in closing costs, total mortgage payments of $47,177, maintenance fees of $7,204, and an opportunity cost of $3,312. (That's what the downpayment would have earned had you invested it in a 10-year Treasury bond.) However, by the 11th year, after the mortgage is paid off, the time-share's benefit becomes apparent as the outlay drops to just $888, while the rental rises to $5,852. It takes 15 years until the total cost of the time-share drops below that of the rental.
Check the unit you would stay in and the course to be sure you like it. If you'll be swapping, buy in season at a top resort. You'll get the most out of a time-share if others find the resort as desirable as you do.
By Pallavi Gogoi
Before it's here, it's on the Bloomberg Terminal.
LEARN MORE