Links to Culture
Pat Yoder, former SVP at Avis Group Holdings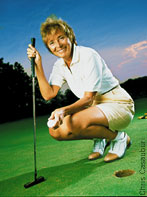 Pat Yoder, a former senior vice-president at Avis Group Holdings Inc., fell in love with the Boca Raton Resort & Club over the course of the many business meetings she attended there. So when Yoder, who retired in 1999, and her husband, Ron Wolfe, picked Florida as the place to buy a warm-weather home, she knew just where she wanted to live.
She was seeking not only good golf facilities but easy access to theaters, museums, and restaurants. "I just said: 'Boca's it,"' recalls Yoder, who also maintains a Manhattan apartment and a house in Southampton, N.Y. "We have Mizner Park, the ocean, a lake for boating, and a university. Theaters in Fort Lauderdale and Palm Beach are only 30 minutes away."
GRAND INVESTMENT.
  Yoder owns a 5,000-square-foot condominium in Mizner Grand, a luxury building adjacent to the resort. She bought the apartment overlooking the Intracoastal Waterway and the resort's golf course three years ago for $1.5 million while it was under construction. She now makes it her home from November to May.
Typically, Yoder plays five times a week. She and her husband are members of the Boca Raton Resort's Premier Club, which required them to put up a refundable $50,000 deposit. For $5,900 a year, they have unrestricted playing privileges at the resort and three other nearby clubs. They also have reciprocal guest rights at Grand Oaks Country Club in Fort Lauderdale and at Naples Grand. An additional $2,866 per person a year entitles them to use the Boca Raton Resort's other facilities, including its health club and tennis courts.
Yoder feels she has found the perfect spot. "I love being able to walk out the door to play or just go to the range," she says. Proximity to the course has yielded another benefit: Her handicap has dropped from 31 to 26.
By Lisa Furlong
Before it's here, it's on the Bloomberg Terminal.
LEARN MORE