Investing in a Golf Community
Buying a home alongside a course can be tricky. Watch out for the hazards
From the turn of the 20th century, when John D. Rockefeller built himself a 12-hole golf course at his estate in Pocantico Hills, N.Y, generations of businessmen--including modern CEOs such as Stephen A. Wynn and H.Wayne Huizenga--have spent small fortunes developing their own private courses, all for the luxury of never having to make a tee time. Then again, if the prospect of shelling out the hundreds of thousands it costs just to mow an average 18-hole course each year doesn't excite you, there are easier ways for executive golfers to own a piece of paradise--namely, buying a home in a golf community.
To help you shop wisely--since there are, after all, few mulligans in real estate--BusinessWeek and Golf Digest consulted with leading tax and real-estate advisers for tips on buying a resort home. The almost universal advice: If you buy a golf home, view it as a well-earned reward and a refuge for indulging your passion for golf--not as an investment.
TROPHY HOMES.
  Make no mistake: Properties at storied resorts in Pinehurst and Pebble Beach are likely to hold up whatever the economic climate, and given their trophy status, should appreciate handsomely over time. But with the explosion in golf-related developments during the past decade--when a record $75 billion in new golf properties went up--experts say it could take years to digest all the new construction in areas such as Palm Springs, Calif.; Scottsdale, Ariz.; and many parts of Florida (chart). The National Golf Foundation says the number of residential golf communities has risen 72% in the past decade, to 2,386, while that of developments combining a residential community and a resort hotel has more than doubled, to 273.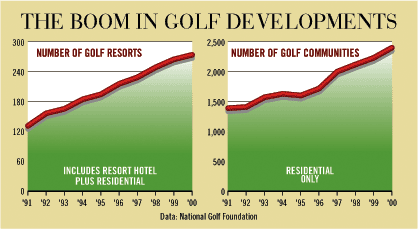 Factor in annual club dues, costs of maintenance, as well as the limited tax deductions on second homes, and it's clear buyers should be driven by the psychic benefits of ownership. Ray R. Irani, chairman and CEO of Occidental Petroleum Corp., cherishes his golf villa at the Vintage Club outside Palm Springs, which he purchased in the late 1980s. Yet, Irani notes, "it has not been a good financial investment. Prices have gone up, but when you add up all the fees, forget about it. It's a place to get away to."
Still, given the sharp economic slowdown, experts say it may be an opportune time to start thinking about buying that golf home you've always coveted. After years of heady runups, house prices in golf havens such as Scottsdale and Palm Desert, Calif., are leveling out and, in some places, are actually dipping. Consider that prices in Rancho Mirage, Calif.--a community replete with 107 courses, many in private resorts--declined an average 8% in August from the year before, while prices in neighboring Palm Desert fell 5%.
NO RUSH.
  "The slumping prices at Rancho Mirage is another indicator that the second-home market is gone," says Palm Desert real estate agent Greg Bauer. If the economy really takes a bad fall and remains down, even the high-end second-home market will be under serious pressure. So do your research, but don't rush into any purchases.
For many, the appeal of getting in on the ground floor of an up-and-coming resort may be hard to resist. But advisers still prefer buying into established developments. Simply put, by taking a flier on a resort-in-progress, you expose yourself to the risk that the developer will unexpectedly build more homes, add a hotel--or worse, run into ruinous financial problems. "The economy has put some of these [newer] developments in financial straits," says Rodney C. Atherton, a tax and real estate attorney in the Denver office of Greenberg Traurig. "You'd be buying without any assur-ance that the development will be finished."
Should you opt for a new resort--if only for the chance to build a home to your specs--be prepared to do your homework (or have an adviser do it for you). That means asking a lot of questions: Does the developer have the necessary environmental permits in order, so you know environmentalists won't stop the project for bulldozing over wetlands? More important, how much financial strength does the developer have? Is he bootstrapping the project himself or does he have bank financing?
"It's a good sign if a bank--and particularly a U.S. bank--is funding a development," says Dennis W. Hillier, a Boca Raton (Fla.) attorney who has done legal work for more than 1,400 courses. Should the developer run into trouble, U.S. banks, unlike foreign ones, "will always step in and finish a golf development, even if just to sell it," he says.
MARQUEE VALUE.
  Experts also favor buying into resorts where the course is designed by a big-name architect--in part for resale value and in part because leading designers such as Jack Nicklaus, Pete Dye, and Robert Trent Jones Jr. only partner with the best developers. "The best architects conduct extraordinary due diligence on the developer because they never want one of their courses to fail," says Richard M. Goldstein, a certified public accountant in San Ramon, Calif.
And while you'll generally pay a hefty premium to live on a course designed by Nicklaus or another blue-chip designer (table), experts note that these "name brand" developments tend to appreciate more than homes built on generic courses. "You'll pay more for a big-name architect, but you get more enduring value," says Colin Hegarty, president of Golf Research Group, a San Francisco-based consulting firm.
If you're having a home built, you would be wise to take out a "builders risk policy." The coverage, which runs between 3% and 5% of the construction cost, guarantees that if the contractor goes broke, the insurer will finish your home. And before you start construction, carefully review the resort's building covenants to spare you from making costly mistakes. Those covenants could dictate everything from the size and height of your home to the type of shingles on the roof. Finally, have your attorney review the resort's master plan to ascertain if the builder has any plans he hasn't disclosed to potential homebuyers. And it may be worth checking the real estate plats at City Hall to make sure the course is zoned to always be a course.
WIGGLE ROOM.
  If that seems excessive, consider the plight of homeowners at the Arizona Biltmore resort in Phoenix. After buying the course out of bankruptcy in 1996, the new owners, Kabuto Arizona Properties LLC, announced plans to bulldoze one of the resort's courses and build more than 100 homes when the original land-use restrictions expired in 2000. Homeowners waged a costly legal battle--to the tune of some $500,000--that ended only after Kabuto agreed last year to preserve the course in exchange for rights to construct more than 110 town homes and condos on another tract. The bottom line: "It's important for the [land-use] restrictions to be documented in the public record because most [developers] want the wiggle room," says Hillier. "But the plat can never be extinguished--even in a bankruptcy."
In a resort that sports both a residential community and a hotel, it's often a struggle for developers to balance the competing interests of homeowners and vacationers. Residents at the posh Broadmoor Resort in Colorado Springs learned that lesson when the resort recently won city approval to expand a small cafe on the Mountain course to accommodate private functions such as corporate outings.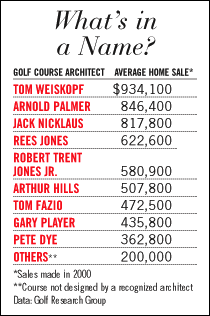 While the developer says the expansion was needed to keep the resort's coveted five-star status, residents have been up in arms over the increased traffic. One homeowner, Sandra Giorgetta, says she has counted as many as 20 buses a night going past her house on the way to the restaurant. "This is a safety issue because of the number of children in the neighborhood," she says. For his part, Broadmoor President Stephen Bartolin Jr. says the resort never hid its plans for this and other expansions. "There are master plans dating back to the mid-'70s that show our expansion plans," he says. Officials at Barton Creek near Austin, Tex., got similar complaints from residents about overcrowding at the pool and dining room. So they built members-only facilities.
After you've checked out the developer, don't forget to vet the members--if only to make sure they're compatible with you. To get a true feel for the community, don't buy until you've made several visits and chatted up the residents. Larry Dickenson, senior vice-president for Asia-Pacific sales at Boeing Co., says he chose to buy into Rancho La Quinta in Palm Springs because many residents were still in their 40s and 50s. "The people are a little younger than at some of the other clubs," says Dickenson, 58. "You don't want to get into a retirement community before your time."
FINANCING OPTIONS.
  Once you've found a home that meets your standards, the real fun begins--writing the check. Here, it pays to consult a good tax adviser who can help determine the best financing strategy: whether to exercise options or restricted stock, sell another home, and even then, whether to offset any capital gains with another loss. Be mindful that the federal tax code lets homeowners deduct only a combined $1.1 million in mortgage interest on their primary and second homes--and even then, many higher earners may not qualify because of various limits on deductions.
If it's any consolation, the taxman does allow filers to exclude from taxes up to 14 days of rental income on a second home. While you may not intend to rent your home to vacationers, advisers note that many executives use their resort home for staff retreats or for entertaining corporate clients, charging the company the "fair market" rent for those two weeks.
A savvy tax adviser can also help you structure the purchase into your estate planning. In some cases, that may require putting only your or your spouse's name on the deed. It may also behoove you to establish a special trust that actually buys and owns the home. Robert C. Lawrence III, a partner with Cadwalader, Wickersham & Taft, says some clients may benefit from the use of a "qualified personal residence trust" that lets the homeowner obtain a substantial discount for gift tax purposes and pass along the future appreciation to his heirs--outside of the $675,000 estate-tax exemption. "If 10 years from now, a $1 million house is worth $2 million, then we've taken $1 million out of the estate tax-free," Lawrence notes.
HALFWAY HOME.
 If you've found the right home, you're halfway there--because you need to invest just as much effort researching the club. The operative question: Is the club owned by the developer or the members? There's a big distinction, since developers may have more of a profit motive, while members just want to run the club at a reasonable cost. L.William Ganshirt, a retired surgeon from Lake Forest, Ill., bought into Laurel Oak Country Club and Estates in Sarasota, Fla., in 1995 because the bylaws required the developer to sell to members when the membership hit 600, which happened two years later. For Ganshirt, that was key. At a previous club where he had rented a home, the developer opened the club to public play.
"You had to call a week in advance" to get a tee time, he recalls. As a rule, advisers say a club shouldn't have more than 400 members per course. Even where developers vow to keep a tight rein on membership, make sure to get it in writing.
The bottom line: Whether you're looking to play Pebble Beach or to buy your small slice of Pebble Beach, it pays to have a good caddie who can help you steer clear of the hazards.
By Dean Foust, with Christopher Palmeri, Ann Therese Palmer, and Stanley Holmes
Before it's here, it's on the Bloomberg Terminal.
LEARN MORE