Through the Looking Glass
Corning Museum of Glass, Corning

CLIENT: Corning Inc.
ARCHITECT: Smith-Miller + Hawkinson Architects, New York
BUILDING TYPE: Glass museum
Corning Inc. (GLW ) faced a complex aesthetic challenge: to rehabilitate a glass center, featuring exhibits and a glass-blowing factory; dramatically redo a nearby landmark glass museum built in 1951 by famed architect Wallace Harrison; and create a new entranceway that would link the two.

The project reflected the company's decision to combine the two centers, located in Corning, N.Y., into a single nonprofit cultural facility dedicated to the art of making glass. The result: an elegant complex that is a celebration of glass. Special features include a glass-walled, 80-seat orientation theater and building lobbies with glass overhangs and walls held in suspension by stainless-steel fittings. "There's no small metaphor for the use of the shimmering, glowing, alive material of glass to make this a welcoming place," says juror Chee Pearlman. As a result of the new design, attendance is growing again after years of decline.
Corrections and Clarifications In the BusinessWeek/Architectural Record Awards (Nov. 5), a photo illustrating the award-winning Corning Museum of Glass depicted an original building that was refurnished in the project, but not the new building, which appears at right, by Smith-Miller+Hawkinson Architects.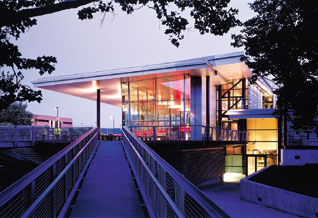 Before it's here, it's on the Bloomberg Terminal.
LEARN MORE