Room with a View
Custom-Molding Facility, Phillips, Wis.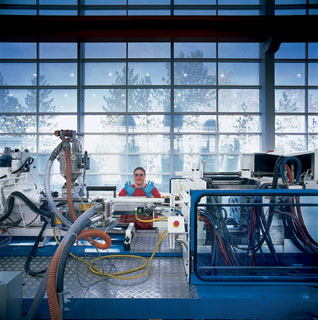 CLIENT: Phillips Plastics, Phillips, Wis.
ARCHITECT: Krueck & Sexton, Chicago
BUILDING TYPE: Manufacturing plant for plastic components
For a factory producing custom-molded plastic parts, Phillips Plastic sought a design that reflected both its rural roots and its open culture.


The result was an 85,000-square-foot structure of glass, steel, and rough- and smooth-cut Mankato-Kasota Stone, a dense sandstone native to the region. The building's floor-to-ceiling glass walls give employees views of the wooded site and Elk Lake beyond. A 17-foot-high acoustic glass wall is all that separates the production area from offices, facilitating contact between managers and workers. The plant's design has helped increase on-time deliveries by nearly 10% while also boosting employee morale.
Before it's here, it's on the Bloomberg Terminal.
LEARN MORE