Lesson in Thrift
Pedestrian Bridge, New York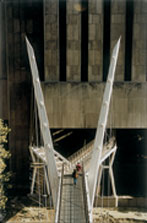 CLIENT: The Rockefeller University
ARCHITECT: Wendy Evans Joseph Architecture, N.Y.
ENGINEER: Heidlinger Associates Inc., N.Y.
BUILDING TYPE: Walkway connecting housing and laboratories
In architecture, less is often more. Such is the case with a novel pedestrian bridge that allows residents of a Rockefeller University faculty housing tower to amble over to labs across the street without having to dodge traffic on New York's hectic FDR Drive. The bridge, with a 100-foot span cantilevered from a single structure, was one-quarter the cost of a more conventional structure. And it preserved coveted river views.
Corrections and Clarifications In the BusinessWeek/Architectural Record Awards (Nov. 5), a photo illustrating the award-winning Corning Museum of Glass depicted an original building that was refurnished in the project, but not the new building, which appears at right, by Smith-Miller+Hawkinson Architects.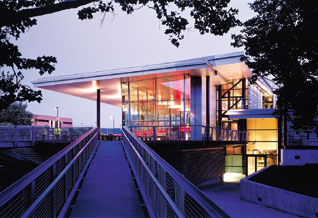 In the same package, the correct name of the structural engineering firm involved with the new Rockefeller University bridge is Weidlinger Associates Inc.
Before it's here, it's on the Bloomberg Terminal.
LEARN MORE