In from the Cold
SAP Global Marketing HQ., New York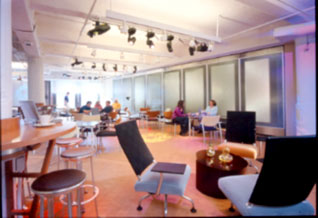 CLIENT: SAP
ARCHITECT: HLW International, N.Y.
BUILDING TYPE: Marketing offices for a software giant
SAP (SAP ) knew that changing its image--from a specialist in arcane software to a global brand that helps managers solve knotty business problems--called for dramatic steps.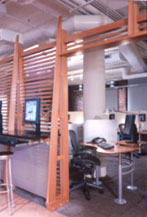 So it recruited Sony Corp. veteran Martin Homlish to run global marketing and allowed him to shift operations from sleepy Walldorf, Germany, to New York's Greenwich Village, where he angled for eye-catching digs that would make a strong brand statement. Homlish wanted an office that would help attract and retain talent, while serving as a stage for product launches, analyst briefings, and other events once held at expensive outside venues. Visitors to the renovated warehouse follow a translucent curved wall to a "plaza." Radiating out from the plaza are cylindrical work islands that staffers can configure as they see fit. For a company with an image of cold German precision, "it's a rather warm-feeling structure, a very interesting and pleasant space," says juror Thomas H. Davenport. It's also a prototype for future SAP offices around the world.
Before it's here, it's on the Bloomberg Terminal.
LEARN MORE