Green--and Enviable
Chesapeake Bay Foundation HQ., Annapolis, Md.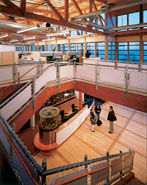 CLIENT: Chesapeake Bay Foundation
ARCHITECT: SmithGroup, Washington, D.C.
BUILDING TYPE: Offices for nonprofit environmental organization
The Chesapeake Bay Foundation, an environmental advocacy group, knew it would be held to a high standard by employees, donors--and antagonists--when it elected to build its headquarters on 31 prime bay-front acres. So it plowed nearly one-fourth of the $7.2 million budget into making the 32,000-square-foot wood and metal-siding structure a "green" showcase. The building uses only 10% of the potable water and 30% of the energy of a conventional office of that size, and 85% of the site was left undisturbed. While not every builder will shell out that much green to be green, "The Foundation is eating their own cooking," says juror Mark Walsh.
Before it's here, it's on the Bloomberg Terminal.
LEARN MORE