Art on the Edge -- Then and Now
Two exhibits now showing in Chicago -- one teaming Van Gogh and Gaugin, and one of new artist William Kentridge -- deserve to be seen
By Thane Peterson
If I had to pick two painters who embody the popular idea of the artist as tragic hero, they'd probably be Vincent van Gogh and Paul Gauguin. Van Gogh, as every schoolchild knows, was a troubled genius who during one of his frequent bouts of despair cut off part of his ear to give as a love token to a prostitute. Less than two years later, in 1890, he committed suicide.
Gauguin, a onetime stockbroker born in France and raised in Peru, abandoned his wife and children and went off to Tahiti to pursue a seemingly idyllic existence painting and living among the supposedly primitive and unspoiled islanders. He died in 1903 at the age of 54, still in French Polynesia, poverty-stricken and physically broken.
An inspired exhibition has just opened at the Art Institute of Chicago that pairs these two great artists. The show, which took nine years to pull together, focuses on a largely forgotten period when van Gogh and Gauguin painted together from late October to late December, 1888, in the town of Arles, in Southern France.
The work the two did during and soon after this encounter represents an astonishing eruption of creativity. And, for me at least, seeing it also raises a question: Do any artists working today have the passion and courage of van Gogh and Gauguin? Happily, at Chicago's Museum of Contemporary Art, a marvelous exhibit now showcases a possible candidate: the brilliant South African artist William Kentridge.
RENEGADES.
  Both shows are well worth a trip to Chicago. For Americans, this is the only chance to see the van Gogh-Gauguin exhibit, which closes on Jan. 13, in the U.S. After Chicago, it moves on to Amsterdam, the only other place it will be shown. Advance tickets are required because the show is drawing big crowds despite terrorism jitters.
The Kentridge Exhibit, which already has been on display in New York and Washington, closes Jan. 20. It moves on to Houston's Contemporary Arts Museum (Mar. 1 to May 5, 2002), then to the Los Angeles County Museum of Art (July 21 to Oct. 6), and then will go on to the artist's hometown of Cape Town.
The amazing thing about van Gogh and Gauguin is the sheer abandon with which the two artists gave themselves over to art. We think of van Gogh as an emotional basket case, but (like Gauguin) he was, in fact, hugely energetic and ambitious. He managed to lure Gauguin to Arles as part of his plan to establish a "studio of the South" in Southern France, where artists could pursue a pure form of art in a communal atmosphere free of the politicking of the Parisian scene. It's as if two unknown New York artists were to take up residence in a small town in, say, Alabama, with the idea of changing the course of Western art.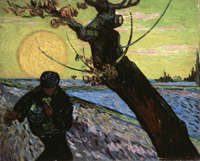 The Sower
Vincent Van Gogh, November, 1888
"I HAD TO LEAVE."
  The pair lodged themselves in a little yellow house van Gogh had rented and started to paint. Often they chose the same subject, such as a straw-bottomed wooden chair or the proprietors of a local café, Marie and Charles Ginoux. The painters' relationship was tumultuous, and Gauguin was constantly threatening to leave the unstable and demanding van Gogh. The ear-cutting episode occurred the night before Gauguin finally left. "I had to leave Arles, he was so bizarre that I couldn't take it," Gauguin explained to a fellow painter.
Against all odds, however, the two artists largely succeeded in their grandiose goal of influencing the development of Modern Art. Van Gogh, in particular, was entering the last, frenzied period of his life, when his output was astonishing. The show includes many of his best-known works, such as The Starry Night, The Bedroom, and the famous sunflower paintings done in Arles, as well as the disturbing self-portraits, including one from 1888 dedicated to Gauguin. The boldness of the colors and raw emotions in these paintings is astonishingly original. Over and over, van Gogh veers dangerously close to kitsch, only to miraculously pull off something surprisingly true.
The two artists clearly had a big effect on one another. For instance, The Vision of the Sermon, one of Gauguin's greatest paintings, was done in Brittany in the summer of 1888 and was probably inspired in part by the admiring letters van Gogh was writing in his campaign to lure Gauguin to Arles.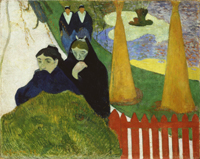 Women of Arles (Mistral)
Paul Gaugin, Mid-December, 1888
SUBTLY SIMILAR.
  Some of the portraits and self-portraits, such as Self-Portrait Dedicated to Vincent van Gogh (Les Miserables), are among Gauguin's best. In the joint portraits the two did in Arles, you get the feeling that the painters' very distinctive styles became subtly more similar as they worked at such close quarters.
Kentridge's work, on the other hand, is far removed from the wildness of van Gogh and Gauguin. The 45-year-old mainly does charcoal drawings full of understated pain and self-questioning by a recurring cast of fictional characters. By making images of the drawings as he smudges, alters, and erases them, he creates little movies that also include sound effects and music. The only colors are usually pools and interconnecting line of blue that seem to represent tears or the emotional connections between people -- and little red Xs that represent the wounds of oppressed blacks during Apartheid.
Kentridge, who is white and whose father was a civil-rights lawyer, is deeply influenced by the memories and aftermath of Apartheid. He studied acting in Paris and has long been involved in a puppet theater in Cape Town. He also uses cutting-edge video-art technology. One of his works is a video story on a flat-screen terminal that forms the back of a medicine cabinet. In another, the video screen is embedded in the large, round-topped mirror of a bedroom dresser.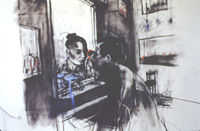 Drawing from the film Felix in Exile
William Kentridge, 1994
CHARCOAL VIDEOS.
  All these influences come together in wistful stories of guilt and remorse that can be tremendously affecting. The videos made from charcoal drawings often deal with a fictional industrialist who resembles the artist and who remembers his hateful oppression of black workers under Apartheid or, in the film Felix in Exile, mourns a love affair with a black woman.
I found myself sitting through some of Kentridge's videos two or three times. Having just come out of the van Gogh-Gauguin exhibit, I couldn't help wondering the whole while what sort of work those artists would have done if video had existed in 1888.
Peterson is a contributing editor at BusinessWeek Online. Follow his weekly Moveable Feast column, only on BW Online
Edited by Beth Belton
Before it's here, it's on the Bloomberg Terminal.
LEARN MORE