You Can't Go Home Again -- Yet
Thousands of New Yorkers who lived near the twin towers have been driven from their residences. Here's the story of one of them
By Spencer E. Ante
I've been trying to get home for nearly a week now. My apartment, in the Battery Park City area of New York, is a stone's throw from where the World Trade Center once stood. But ever since two teams of terrorists hijacked a pair of Boeing jetliners en route from Boston to California and crashed them into the twin towers, my neighborhood has been transformed into a torched, twisted war zone.
It all started as I was getting ready to go to work on the morning of Sept. 11. I heard an explosion outside of my apartment. I took the elevator down to the street -- and saw the second plane plow into Tower Two. Not long afterward, I saw Tower Two crumble -- and I ran for my life toward New York harbor. Hours later, I escaped on a tug boat headed for Jersey City.
Today, I'm one of an estimated 10,000 to 20,000 New Yorkers who are refugees, displaced by terrorism. Most New Yorkers don't realize it, but over the last 10 years, lower Manhattan had blossomed into a bustling residential community, with restaurants, bars, and supermarkets. I bought a condo there when I moved to New York from San Francisco in April, 2000.

Running away from the crumbling Tower One through Battery Park
TWILIGHT ZONE.
  Now, my neighborhood has been disfigured by mass murderers, turned into a "restricted zone." I think it feels more like a Twilight Zone, an alternate universe where the smallest task can become an exhausting operation. And yet those of us who call the area home feel lucky to be alive. And we mourn the deaths of those who didn't survive. But we also have to try to get on with our lives. We need to get into our apartments to retrieve pets, clothes, medicine, documents, and anything else that we need to go forward.
Ours is not an easy mission. We know the rescue and cleanup is the top priority. Firemen, policemen, and rescue volunteers are using the ground adjacent to the WTC as a staging area to aid the recovery. Security is tight, and the police have been hesitant to let us in. On Thursday, Sept. 13, I try to walk down the West Side of Manhattan from Pier 40 to my home. But the police and parks officials let in only limited numbers of residents who owned pets. I don't own a pet.
Forty-eight hours later, my girlfriend and I have a breakthrough. Just after 11 a.m. on Saturday, Sept. 15, we charge out of the Bowling Green subway stop in lower Manhattan -- four blocks southeast of Ground Zero in the heart of the financial district. Earlier, a woman at a community meeting on a basketball court on the corner of Sixth Avenue and Canal Street had told us she gained access to her apartment from this subway stop.
We see giant trucks carrying cranes and smashed vehicles that once were fire engines. City sweepers clean up the streets to help prepare for Wall Street's highly anticipated reopening on Monday. Guardsmen hand out bottles of water. The acrid stench from the obliterated buildings is heavy and makes it hard to breath. I wear a mask.

Escaping New York via tug boat, heading to Jersey City across the Hudson River
FOILED AGAIN?
  We must follow the instructions of the National Guard, which is organizing retrieval visits. A gray-haired sergeant named Ted Enguziak runs the show. He stands on a box in front of us and calls out people according to where they live: 88 Greenwich, 55 Battery, 200 Rector Place. People raise their hands and group together.
A group of guardsmen prepares to take in the people from 88 Greenwich. They line up. Officers check their IDs to make sure they live in the area. The sergeant tells the Rector group to stand off to the side. I live at 200 Rector Place, so I join that group. But just as the Greenwich group is about to go in, police and other officials seal off the Battery Park area. Another large building in the WTC vicinity, One Liberty Plaza, is in danger of collapsing. So cops and guardsmen hold the line and keep everyone away from the danger.
We wait. And wait. Every 15 minutes a new gaggle of residents emerges from the mouth of the subway. It's getting crowded and tense. I fear there may be too many people, that we'll be foiled again.
At 2 p.m., the area is reopened. By then, hundreds of refugees have gathered, clamoring to get in to their homes. My girlfriend holds our place while I move up to the front of the line to see what's going on. The sergeant is doing an amazing job. His honesty, sincerity, and strong communication skills keep the crowd calm. He's even smart enough to ask for more information from the people he is trying to help.
Rector Street is different from Rector Place, we explain to him. Twenty minutes later, he tells the Rector Place group, which now numbers about 60 people, to line up in front of the barricade. Guards check our IDs. We begin our march south into Battery Park.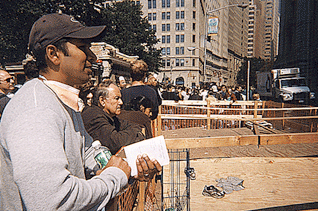 Refugees wait to be escorted back to their homes by the National Guard
FACE OF DEVASTATION.
  As we trundle over to our homes, I get my first close views of Ground Zero. The National Guard has taken over all of Battery Park. Humvees and tanks dot the lawns. A Coast Guard cruiser patrols the foot of the harbor. I look north up the West Side Highway and see black clouds drifting up into the sky from the vortex.
Walking along the edge of the harbor southeast of where the towers stood, I'm shocked to see that the southern end of Battery Park City appears largely unscathed. The rain earlier in the week probably washed off a lot of the dust and debris that had coated the ground and the buildings. Green grass and colorful rows of flowers are even shining in the sun. For the first time since the disaster, I can actually imagine living down here again. I sense a glimmer of hope.
We reach Battery Place and walk north toward my building. Here is where the devastation starts to show its ugly, evil face. From Rector Street north, the area looks more like a bomb target. Thick layers of ash, debris, and burned paper coat the ground. An empty baby stroller sits abandoned on the sidewalk. The entrance on Rector Place is chained shut, so we head around to the southern entrance on West Thames Street.
On West Thames between the West Side Highway and South End, right in front of the entrance to my apartment, red steel beams from the WTC are stacked like logs. Cranes pick up the beams and drop them into a flatbed 18-wheeler, which carts them away. The sound of colliding steel is deafening.
SUPER HEROES
 . A guardsman tells us we have 45 minutes to collect our belongings -- a lot longer than we anticipated. We enter the apartment lobby. I see my building's superintendent, a young Russian guy named Peter. He has been there the whole time. The supers are some of the unsung heroes of this disaster. Like captains of a ship, they have hung in there and protected our homes while the world crashed around them. Two National Guardsmen are slumped in chairs, exhaustion on their faces. The Guard is using our building as a temporary encampment.
One of the guardsmen takes down my apartment number and logs our visit. I live on the 12th floor of a 45-floor building. So we run up the stairs. I've brought a lantern, but I don't need it because a backup generator in my building -- the only one in the neighborhood -- is powering the lights. I see another abandoned stroller in the stairwell. We reach my floor in 10 minutes and enter the apartment. I can't believe it. I finally made it.
It doesn't look that bad. I left the windows open a tad, so a thin film of dust coats the first room. My bedroom got hit harder. A thicker layer of dust covers it. So I put my mask back on. We've already written a list of stuff we want to gather, so we start collecting the items. We finish in 30 minutes and head back down to the lobby. I talk to Peter. He says he's fine but tells me that a few people in our building are missing.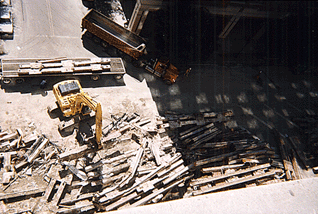 Cranes move beams from the twin towers onto a flatbed truck in front of my apartment
CONCERNS AND FEARS.
  After everyone in our group gathers, we head back to Bowling Green. During the long day, my girlfriend and I have befriended another couple. I exchange business cards with the guy. His name is Joe, and he works on Wall Street.
I tell him I'm worried about my apartment, which I own. He tells me he bought a new apartment in the Ritz Carlton down the street and was in the process of selling his apartment in Rector Place before the Towers fell. All of us vow to have dinner together sometime soon to celebrate our lives and our hoped-for return to our homes.
We have our belongings now. But what about our homes, our future? We have so many questions and concerns and fears. First off, thousands of people are still trying to get into their homes. They need help. Beyond that: Will we ever be allowed to live in Battery Park City again? If so, when? How long will the cleanup take, and who is going to pay for it?
Then there are the psychological issues: Will I ever want to live so close to the site of such an awful tragedy? Finally, there's the financial aspect: If I can't live there, but my building isn't severely damaged, how can I pay rent and a mortgage at the same time?
These concerns pale in comparison to those of people who lost loved ones in the disaster. But they're part of going on with life. And that's what we are doing, along with thousands of other refugees from lower Manhattan. It's all we can do right now.
Ante, who took the pictures in this story, writes for BusinessWeek in New York
Edited by Alex Salkever