Use Your Head: Eye Device Replaces Mouse
Control your on-screen pointer with head or finger movements
Tired of the never-ending rodent race around your desktop? Transcend your mouse by slapping a silver dot on your forehead. The dot is part of Eye Control Technologies' $99 NaturalPoint TrackIR, a gizmo that lets you control your on-screen pointer with head or finger movements.
The heart of TrackIR is a Web camera-size transceiver that attaches to your monitor or laptop screen. The transceiver beams infrared light that the dot then reflects back to the unit. As you move your head, your on-screen pointer moves accordingly. TrackIR also ships with a finger-ring control--ideal for notebooks with cumbersome pointing devices.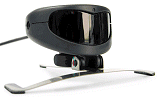 For mouse clicks, TrackIR relies on keyboard shortcuts. You can designate keys to replace the left and right mouse buttons for selecting, double-clicking, and dragging and dropping, as well as to handle scrolling and reset, which puts the pointer in the center of your screen.
TrackIR ships with two plastic rings and 60 reusable dots (replacing a set of rings or dots costs $4). In addition, an Eye Control TrackIR Presenter model ($149) with a plastic pointing wand is available.
Originally aimed at people physically unable to use conventional pointing devices, Eye Control is hoping that price cuts will make TrackIR appealing to gamers, notebook users, and repetitive strain sufferers. Though using it takes some practice, I found that it generally worked well. Unfortunately, bright light interfered with the infrared beam on my shipping unit, making pointer movements erratic at times. The NaturalPoint TrackIR is probably most useful to folks with physical limitations who need a mouse alternative.
BUYING INFORMATION
NaturalPoint TrackIR
PRO: Great mouse alternative for people with repetitive strain injuries.
CON: Silver dot on forehead will draw gawks; bright light can skew pointer movement.
VALUE: A unique, handy gadget for people who need--or really, really want--to ditch their mouse.
Street price: $99
Eye Control Technologies
888/865-5535
By Tom Spring