business
Sony VAIO Digital Studio PCV-RX490TV
Sony's glamorous new VAIO gives video enthusiasts a sleek DVD-RW drive that can record home movies and a graphics card that captures TV shows on your hard drive
WHAT'S HOT: Sony's VAIO Digital Studio represents the ultimate in digital video capabilities. This PC's optical drive can write and rewrite data onto DVD-RW media without relinquishing its 2X DVD-R writing ability. The drive represents an advantage over DVD-R drives in that it offers a rewrite function not previously seen with DVD technology. Another plus is that commercial DVD players can read DVD-RW discs (as well as DVD-R discs).
Unique to this Sony model are two additional features: a graphics card optimized as a Digital Video Interactive hardware MPEG decoder, and a Personal Video Recorder. In addition to providing exceptionally clear DVD movie playback and above-average 3D-game frame rates, the system's Asus AGP-V7100 graphics card (based on NVidia's GeForce2 MX) holds a TV-tuner option that lets you record prescheduled television shows onto your hard drive (similar to TiVo). The Giga Pocket Personal Video Recorder allows you to record both high-quality MPEG-2 videos and less-intensive MPEG-1 videos.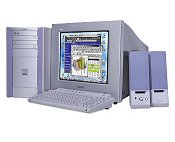 The I.link card allows fast video capture and an ethernet adapter lets you share your videos over a LAN or high-speed internet connection. Audiophiles will appreciate sony PCVA-SP2 speakers, which produce a rich combination of treble and bass tones. You can recline on the sofa while you watch or listen to music. The included remote control offers playback, recording, and volume controls.
WHAT'S NOT: Unless you're Steven Soderbergh, this VAIO's $2930 price tag will stretch the upper limits of your budget. Furthermore, the Digital Studio PCV-RX490TV comes in just one flavor: 1.7-GHz P4. Intel's current top processor has proven underwhelming in our tests, and this VAIO doesn't buck that trend. Though this system's PC WorldBench score of 167 is in line with those of other 1.7-GHz P4 systems we've tested, it's significantly lower than the scores posted by 1.33-GHz Athlon-based competitors. Additionally, in an effort to maintain a small footprint, Sony has squeezed the Digital Studio's many components into a cramped interior, which could be a hassle for users trying to add hardware to the one remaining slot or one unoccupied drive bay.
WHAT ELSE: With the VAIO Digital Studio, Sony retools the PC, transforming it from a drab beige box that sits on your floor into a cool, purple box that would look good on your desktop. Accessible on the minitower's front are a variety of well-labeled connections, including two USB ports, an IEEE 1394 port, and audio and S-Video connections. Also on the front is a blue LED that indicates the PC's status: on, off, or sleep mode. On the back of the case is a recessed latch that opens the case.
Sony's optional Trinitron HMD-A200 monitor (which features four additional USB ports) is perhaps the one mediocre feature in this stellar package. Though text and icons appeared fairly sharp and color fairly bright, this monitor has a limited optimal refresh rate, which restricts its ability to constantly update its display. Sony's offers a one-year parts and labor warranty and technical support for one year as well. Among the numerous software titles, Sony bundles the Tomb Raider Chronicles game, Microsoft Word 2002, and Sonic Foundry's Sound Forge XP. In PC World's annual Reliability and Service survey, Sony received a reliability rating of Good and a customer service rating of Fair.
BEST USE: Sony's Digital Studio has the gear for video artists and home-theater enthusiasts, and it has the looks for people who want to be on the cutting edge. It's priced for buyers with lots of extra cash.
BUYING INFORMATION
Sony VAIO Digital Studio PCV-RX490TV
PC WorldBench 2000 score of 167, Pentium 4-1700 CPU, 128MB of RDRAM, 256KB L2 cache, Windows Me, 80GB hard drive, 20X-40X CD-ROM drive, DVD-RW drive, Asus NVidia GeForce2 MX graphics card with 32MB of SDRAM, 17-inch Sony Trinitron HMD-A200 monitor, integrated sound card, Sony PCVA-SP2 speakers, V.90 modem, ethernet adapter, TV-tuner card, I.Link card, minitower case, Microsoft Word 2002. One-year parts and labor warranty, free 24-hour tech support for one year.
Street price: $2930
800/571-7669
By Kalai Murugesan
Before it's here, it's on the Bloomberg Terminal.
LEARN MORE