Enpower Campus Note 14T
All-in-one gets an A for CD-playing capabilities but flunks documentation and performance
WHAT'S HOT: Four shortcut buttons below the Enpower Campus Note's mouse buttons double as music-CD controls. You can change tracks, control volume, fast-forward, and reverse, all without turning the notebook on. (When you're viewing a DVD, however, only the volume and eject buttons work.) An LED indicates whether the CD player is turned on, and a second LED next to it serves as an alert for Microsoft e-mail applications.
WHAT'S NOT: The user manual suffers from rough translations and confusing instructions. The Campus Note also falls behind its classmates in running business applications. It turned in a PC WorldBench 2000 score of only 114, about 12 percent behind the only other Pentium III-800 laptop we've tested with Windows Millennium Edition, the Tiny Computers Performance 800. And the Campus Note lacks a docking connection, which makes it a poor candidate for use as a desktop replacement.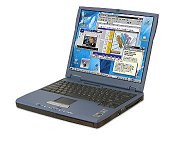 WHAT ELSE: Despite its scholarly name, the Campus Note offers no special features for students--it lacks a network connection and includes no applications. This blue-and-gray portable provides a fixed 8X DVD-ROM drive on the front, along with a fixed floppy drive and a PS/2 mouse-and-keyboard connection conveniently located on the right side. A handy LCD status panel above the keyboard provides information such as the current power source (AC or battery) and whether the hard drive or DVD drive is active. You can access both the hard drive and the memory slots, but to reach the hard drive you must first free the DVD-ROM drive by removing a few screws.
Aside from its CD-player controls, the Campus Note did not wow us with its multimedia capabilities. Its sound quality is only so-so, and you get only two basic audio connections: one for attaching a microphone and one for headphones or external speakers. We did, however, appreciate the oft-used Ctrl key's location in the bottom-left corner of the keyboard, a spot other notebook vendors reserve for the less-important Fn key. Battery time was a respectable 2 hours, 51 minutes.
UPSHOT: With its ability to act as a stand-alone CD player, the Campus Note might be fun to use in between studies, but subpar performance and rough documentation prevent it from moving to the head of the class.
BUYING INFORMATION
Enpower Campus Note 14T
PC WorldBench 2000 score of 114, Pentium III-800/700 CPU, 128MB of SDRAM, 256KB L2 cache, Windows Millennium Edition, 14.1-inch active-matrix screen, integrated graphics with UMA, 20GB hard drive, 8X DVD-ROM drive, V.90 modem, touchpad pointing device, 8 pounds (including AC adapter and phone cord). One-year parts and labor warranty; free unlimited toll-free tech support 11 hours on weekdays and 5 hours on Saturdays.
Street price: $1649
800/997-2258
By Carla Thornton
Before it's here, it's on the Bloomberg Terminal.
LEARN MORE