Compaq Armada M700
This slender but powerful corporate laptop could have a better keyboard and a lower price
WHAT'S HOT: Pleasingly thin, the Armada M700 measures just 1.4 inches tall with the case closed. But the svelte case packs plenty of power: Posting a hot PC WorldBench 2000 score of 170, the Armada performed better than other PIII-1000 laptops we've tested with Windows 2000 and 128MB of RAM. It's also a long-distance runner, lasting an impressive 4.25 hours on one battery charge. A half-dozen devices can take turns residing in the M700's single modular bay: In addition to the floppy and DVD-ROM drive you get at this price, you can opt for an extra-cost second battery, a Zip 250 drive, or a second hard drive. The floppy drive also can attach externally via the included parallel port cable.
WHAT'S NOT: At $3599 the Armada is pricey, even for a notebook boasting a top-end processor, and it could accommodate a roomier keyboard on its standard-size 12.2-inch-wide case. Typists with large hands may find the tiny function keys, horizontally positioned Pg Up and Pg Dn keys, and junior-size mouse buttons tiresome to use for long periods.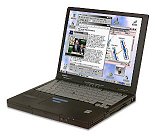 WHAT ELSE: The Armada comes with all standard notebook ports and connections, including two PC Card slots, a network interface, and a modem. Compaq even throws in a composite-out port for using a TV as a monitor. With a single security screw removed, the hard drive easily pops out the front, allowing you to lock it up for safekeeping or swap it for upgrades or multiple users. The stereo speakers occupy an odd place--just beneath the last row of keys--but the sound, quite good for a small notebook, found its way around our typing hands. Microphone and headphone jacks sit conveniently on the case front, and four programmable quick-launch buttons top the keyboard.
The battery provides a handy LED charge indicator for checking on remaining juice. Documentation includes a thin print manual, a primer on ergonomics, and a detailed reference CD-ROM. The Armada M700 isn't the lightest notebook with a 14.1-inch screen (IBM's ThinkPad T series and Acer's 610 series of laptops, both around 5.2 pounds, earn that distinction), but it weighs a reasonable 5.9 pounds with a hollow bay bezel installed.
UPSHOT: With top speed and an impressively long battery life, the Compaq Armada M700 might be worth the investment for companies willing to pay extra for a svelte notebook. It's also a good complement to Compaq's heavier Armada E500. The two laptops can share docking stations and add-in devices such as second batteries.
BUYING INFORMATION
Compaq Armada M700
PC WorldBench 2000 score of 170, Pentium III-1000/700 CPU, 128MB of SDRAM, 256KB L2 cache, Windows 2000, 14.1-inch active screen, ATI Rage Mobility Pro graphics chip with 8MB of SDRAM, 30GB hard drive, 4X/4X/20X CD-RW drive, V.90 modem, network adapter, eraserhead pointing device, 7.3 pounds (including external floppy drive, AC adapter, and phone cord). Three-year parts and labor warranty, free unlimited 24-hour toll-free tech support.
Street price: $3599
800/345-1518
By Carla Thornton
Before it's here, it's on the Bloomberg Terminal.
LEARN MORE