Where Expats Spend the Most
Turns out that a new study finds only a few cities abroad are more expensive than New York
For U.S. executives working overseas, the priciest places to live are Seoul, Tokyo, Moscow, Singapore, and London. That's the finding of Runzheimer International's latest survey of living costs around the globe, based on the needs of a middle-class U.S. family.
The most surprising aspect of the report in view of the superstrong dollar is the high relative cost of living for execs working in New York, which ranks fourth in a list of 25 cities. (New York is also about 45% more expensive than Chicago.) Some of the cheapest postings this year are Sydney, Bombay, Toronto, and especially Johannesburg -- where living costs currently run about 60% below those of the Big Apple.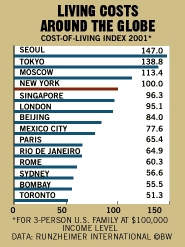 By Gene Koretz in New York
Before it's here, it's on the Bloomberg Terminal.
LEARN MORE