For Chip Stocks, a Ray of Hope
Although an upturn in semiconductor orders may be several months away, now is the time to start looking at some quality names
By Thomas W. Smith
On Thursday, June 21, 2001, the trade association Semiconductor Equipment and Materials International (SEMI) reported the book-to-bill ratio for North American-based semiconductor equipment suppliers at 0.46 (preliminary) in May 2001. That means that $46 of orders were booked for every $100 of shipments made. A book-to-bill ratio below 1.0 implies a contracting industry and a number above 1.0, or "parity," marks an expanding industry.
For May 2001, the ratio was derived from a pitiful $704.4 million in bookings versus $1515.2 million in shipments (based on a three-month moving average). The bookings figure was down 3% from the April 2001 level, and down 75% from April 2000. The shipments figure fell 9% from the immediate prior month, and was 30% below the year-ago level.
One interpretation of this number is that shipments of chip-making gear are likely to follow the direction of orders and move lower this summer. Naturally, that would create very weak revenue for the equipment suppliers. Yes, it's true. There is a huge amount of bad revenue and earnings news in hand, and the earnings reports for the September 2001 quarter might be flat with the June quarter, but are unlikely to be any better.
A positive note for earnings in the September quarter versus the June quarter is that cost control measures taken earlier in the year should be fully in place. That is, flat sequential revenues combined with lower operating costs should contribute to a rise in earnings. As an example of cost cuts, Teradyne (TER ; ranked 2 STARS, avoid), the largest maker of semiconductor test machines, has laid off 12% of its workforce so far this year. Layoffs, salary cuts, project delays are an industry-wide focus in 2001, as companies try to contain costs and survive this particularly rapid industry downturn.
BULLISH NOTIONS.
  A second interpretation of the latest book-to-bill ratio is the bullish notion that the number has finally turned up, after falling for over a year. The book-to-bill for April 2001 was 0.44 (revised), and that was the lowest number in over a decade. The thinking goes that once the book-to-bill ratio stops falling, orders and shipments stay low, rattling around in the basement, for 3 to 6 months and then, finally, orders begin to rise more regularly and the industry begins a two-year march back to boom times.
Based on this bullish interpretation that an uptick in the book-to-bill ratio marks the cycle bottom, one camp of aggressive analysts turned bullish on the top-tier chip equipment makers this spring. This approach looked pretty smart in April and May as the sector zoomed up, but less so in recent weeks in June as the whole technology area sagged back, particularly on earnings warnings from communications equipment companies that use a lot of chips.
We largely share this bullish view and marked up wafer fab equipment makers Applied Materials (AMAT ) and KLA-Tencor (KLAC ) to 5 STARS (buy) recommendations this spring. Although there is some risk of being early, and therefore having dead money for a few quarters, we think that in a six- to 12-month time frame, shares of these larger companies with leading-edge technology should outperform the broader market.
YELLOW FLAG.
  Another more cautious camp argues that there really is no concrete evidence that equipment sales will rise meaningfully in 2001. The economy is slow. It might stay slow well into 2002. All the big end markets for chips are subdued now, and while PCs a might sell a little better by Christmas, the prospects for wireless communications products are more iffy, and wireline communications equipment might not pick up until mid-2002.
Fears that this camp might be right keep tamping down the prices for semiconductor equipment and semiconductor companies. For instance, the Philadelphia Semiconductor Index has approached the 700 level at times this spring but, as I write, is back down near 580. Some lingering suspicion that this bearish camp might be right has kept us from turning more bullish in our recommendations on two other large wafer fab equipment makers, namely Novellus Systems (NVLS ) and Lam Research (LCRX ), bothe ranked 3 STARS (hold). These two should do well in the next upturn, but caution about the timing question has kept us neutral for now.
The downturn has been harsher for back-end equipment companies than for the front-end companies such as AMAT. (The front-end of the chip-making process is wafer production, which creates finished integrated circuits on the wafer; the back-end is test, assembly and packaging of the individual chips.) The aforementioned Teradyne and the wire-bonder tool maker Kulicke & Soffa (KLIC ; 3 STARS) should have good innings in the next upturn, but revenues have been especially hard hit. They really need to see volume production of chips turn up before their tools will sell, whereas the wafer fab toolmakers mentioned above can have a stream of sales from technology upgrades as chipmakers step-up to 300mm wafers, new interconnect materials (copper instead of aluminum lines), and smaller line-widths at 0.13 micron.
COMES THE DAWN?
  To put this assessment of chip cycle timing into an analogy, you might say the first sparrow of spring has arrived in the form of an uptick in the SEMI book-to-bill ratio. However, the sparrow was bruised, out of breath, and faced severe headwinds in making the journey. The rest of the sparrows are spread out and struggling, but will eventually make it to their sun-splashed destination.
Investor interest in the semiconductor equipment sector tends to perk up quickly when orders finally do take off in earnest. Although we are a few months away, maybe even nine months from a meaningful upturn in orders, we think it will pay to have started a position in the group, even though there is some waiting to be done. This may be one instance where the early sparrow gets the worm.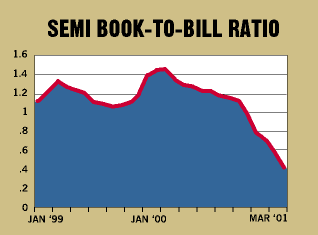 Smith is a semiconductor industry analyst for Standard & Poor's
Before it's here, it's on the Bloomberg Terminal.
LEARN MORE