For These Industries, Rank Has Its Privileges
On average, industries with top S&P Relative Strength rankings have trounced the overall market
By Sam Stovall
Ever wonder what the Relative Strength Ranking (RSR) on the S&P Sector Scorecard means, or how you could use it to your advantage?
If someone told you "My investment rose 20%! Aren't I smart?" Your answer should be, "That depends. How did the market do during the same period?" That response is an illustration of relative strength, or how one investment's return compares with another's.
We perform a similar comparison in the S&P Sector Scorecard for the 115 industries in the S&P Super 1500 (that's the aggregate of the S&P 500, S&P MidCap 400 and S&P SmallCap 600). Each industry index's six-month price performance (excluding dividends) is ranked from best to worst. Those in the top 10% get a 5, the next 20% get a 4, the middle 40% get a 3, the next 20% get a 2 and the bottom 10% get a 1. These rankings are more than just a look backwards, however. They also provide guidance for the future.
Momentum investors use prior results as a means to gauge future performance. Investors should be aware that, as the mutual fund solicitations warn, there is no guarantee! Yet some investors believe that industries with superior performances attract the attention of other investors, who then jump on the bandwagon. This causes the momentum to continue.
So far, so good. But some momentum investors get burned, because they don't know when to get off. And that's where the S&P Sector Scorecard - with its RSRs -- comes in.
Take a look at the chart below, which shows the average monthly price performance for the RSRs ranked 5 and the S&P Super 1500 from January 1996 through May 2001.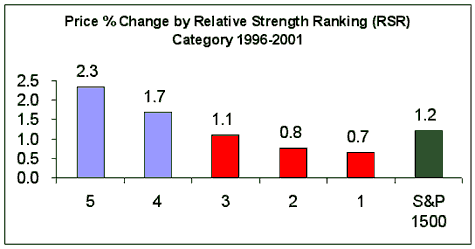 In theory, this means that an investor who maintained a portfolio of 11 industries -- buying those ranked 5 in the prior month, holding them for the coming month, and then selling once they were no longer ranked 5 -- would have seen his asset value rise by an average of 2.3% per month, versus the S&P Super 1500's average monthly advance of 1.2%.
On the surface, this might not seem like a big difference. But had this hypothetical investor started with $1,000 on Dec. 31, 1995, he would have had a portfolio worth $3,986 at the end of May 2001, versus $2,061 for someone who took a buy-and-hold approach. Had this investor elected to maintain a portfolio of 23 industries with an RSR of 4, he would also have outperformed the market, but by a lesser amount.
In practice, matching this performance may be a bit more difficult, since industry indexes are not traded on any exchange (your results may be better or worse). So here's what I'll do. In the coming weeks, when the roll-out of the new S&P Global Industry Classification Standard (GICS) on the Sector Scorecard page is complete, I will provide an updated weekly list of the industries with RSRs of 5, and show the component company with the highest S&P investment ranking (STARS). In the case of a tie, the company with the highest market capitalization will be displayed. In addition, I'll spotlight the investment outlook for one of the 11 industries.
Here's a preview of the weekly RSR list, using data obtained under the existing Sector Scorecard format. Year to date through June 8, the RSR-5 Industries gained 0.9% versus a 3.3% decline for the S&P Super 1500.
Industry
Company
S&P STARS Rank
Aluminum
IMCO Recycling (IMR)

Consumer (Jewelry, Novelties & Gifts)

American Greetings

(AM)

Entertainment
AOL Time Warner (AOL)

Equipment (Semiconductor)
KLA-Tencor (KLAC)

Gaming, Lottery & Parimutuel Companies
GTECH Holdings (GTK)

Iron & Steel
AK Steel Holding (AKS)

Oil & Gas (Refining & Marketing)

Ultramar Diamond

(UDS)

Photography/Imaging
Xerox (XRX)

Retail (Home Shopping)
Lands' End (LE)

Retail (Specialty)
Barnes & Noble (BKS)

Textiles (Apparel)
Jones New York (JNY)
Stovall is Senior Sector Strategist for Standard & Poor's
Before it's here, it's on the Bloomberg Terminal.
LEARN MORE