Joseph Osha
Analyst, Merrill Lynch & Co.
CATEGORY: Semiconductors
STOCK PICKS: Transmeta (TMTA), Texas Instruments (TXN), Linear Technology (LLTC)

Investing in semiconductor stocks nowadays might take you on a path where only fools dare to tread. With PC and cellular-phone sales expected to remain weak for the rest of this year, many chip stocks have tanked. But Merrill Lynch & Co. analyst Joe Osha says there are a few poised to make a strong comeback, with products aimed at promising mobile and portable markets. Companies that provide powerful, smaller chips that are less of a battery drain will capitalize the most, he says.
A favorite is Santa Clara (Calif.) upstart Transmeta Corp. (TMTA ), which makes chips that offer the most performance for the fewest volts in notebook computers and other electronic devices. The only chip stock Osha rates a "buy," Transmeta has a product "that's very well-suited for the direction the portable device market is taking." Osha expects Transmeta's shares to rise nearly fivefold in the next 12 to 18 months, to 61 from 12 today.
Another pick is Texas Instruments Inc. (TXN ), which hit a wall earlier this year. Sales of its digital signal processing chips, found in cell phones and toys, slumped amid the economic downturn. But Osha rates it an "accumulate," which he says means it's a good long-term holding. TI is "still the shop to beat" when the market for gizmos and gadgets recovers, he says. His 12- to 18-month price target is 60 a share, up from 34 today.
Linear Technology Corp. (LLTC ), he says, also has considerable room to grow with the market for mobile devices. It is a leader in power management and battery charging technology. Osha, who also rates Linear "accumulate," says its leadership position will help boost its shares to at least 70 over the next year or so, up from 49 today.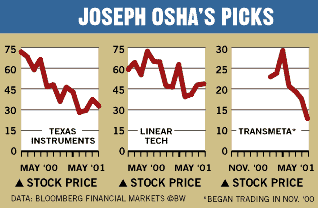 Before it's here, it's on the Bloomberg Terminal.
LEARN MORE