Jack B. Grubman
Managing Director, Salomon Smith Barney
CATEGORY: Telecom services
STOCK PICKS: Worldcom (WCOM), Qwest Communications International (Q), Global Crossing (GX)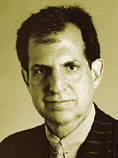 Jack Grubman, a fanatical boxing fan and onetime amateur boxer, isn't afraid to lead with his chin. The analyst has been bloodied over the past year as many of his favorite stocks, notably WorldCom Inc. (WCOM ), have been hammered. So what is Grubman recommending these days? Well, WorldCom again tops the list, putting him in the minority of Wall Street analysts who favor the stock. He also likes Qwest Communications International Inc. (Q ) and Global Crossing Ltd. (GX )
The stocks of many long-distance companies were pounded as competition from new upstarts drove prices down. Now, with many of the upstarts in trouble and the Baby Bells shying away from aggressive price competition as they enter the market, Grubman says prices are stabilizing and it's time to once again cozy up to these stocks. "All the riff-raff is gone," he says.
With more stable prices, WorldCom and other long-distance players should see respectable revenue growth for Internet and data services. Grubman expects WorldCom's revenues will grow 12% to 15% next year, pushing its stock from 18 to 30 within a year. Global Crossing, which has built an extensive international telecom network, should also benefit from stabilization in rising global traffic. At 12 a share, Grubman says it's a "steal" and expects it to more than double in a year.
Qwest is a near-consensus pick among the analysts who follow it. The company boasts steady financials because of its purchase of Baby Bell US West last year. What may push up its revenue growth, Grubman says, is its long-distance network, which is capable of carrying voice and data. He figures the revenue boost should push its stock from 36 to 50 inside of a year.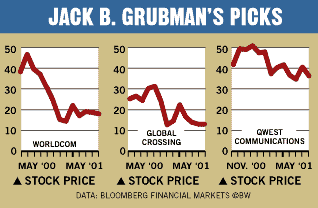 Before it's here, it's on the Bloomberg Terminal.
LEARN MORE