Gregory Gould
Managing Director, Goldman, Sachs & Co.
CATEGORY: Services
STOCK PICKS: First Data (FDC), Affiliated Computer Services (ACS), Electronic Data Systems (EDS)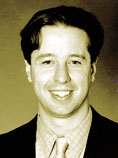 In a rocky economy, companies that can help in the quest to save money will flourish, says Gould. Especially outsourcing. As corporations attempt to lower costs, they're turning to others to handle services such as payroll processing and telemarketing. The total amount shelled out to such outsourcing companies should double to more than $300 billion by 2004, according to market researcher International Data Corp.
Gould has two favorites in the field: Affiliated Computer Services Inc. (ACS ) and Electronic Data Systems Corp. (EDS ) Half of ACS's $2 billion in annual revenues comes from managing not only client computer networks but also entire functions such as payroll or benefits administration. Gould expects ACS's stock to rise to 86 over the next 12 months from 72, fueled by a 25% growth in earnings, to $170 million.
EDS is similarly well positioned. Gould says the company will likely boost revenues 14% this year, to $21.9 billion, and earnings 18%, to $1.3 billion. Another plus: EDS's aggressive management team, led by CEO Richard H. Brown, which took over two years ago. After it expanded and retrained the sales force, the rate of new-client wins rose to 45% from less than 35%. Gould expects the stock to jump to 78, from 62 1/2, in the next year.
Another Gould pick is First Data Corp. (FDC ), which he figures will benefit from an anticipated 50% surge over the next decade in electronic payments, such as credit-card and money-wiring services. FDC's largest and fastest-growing business is Western Union (WIU ), which is seeing rapid growth from two groups of people that frequently wire cash back and forth: those who don't have their own bank accounts and expatriates. Western Union is expanding internationally, signing contracts this year to open branches in India and China. "That's exposure to nearly half the world's population," says Gould, who expects sales and earnings to climb 13% in 2001 to $6.4 billion and $997 million, respectively. He predicts the company's shares will rise to 78 within a year, from 63 1/2.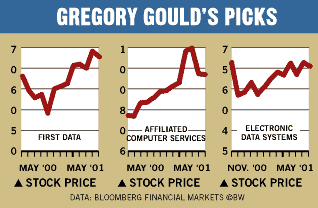 Before it's here, it's on the Bloomberg Terminal.
LEARN MORE