Andrew J. Neff
Senior Managing Director, Bear, Stearns & Co.
CATEGORY: Hardware
STOCK PICKS: Dell Computer (DELL), Sun Microssytems (SUNW), EMC (EMC)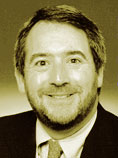 Neff turned heads in January when he declared that Dell (DELL ) should buy Gateway (GTW ), Hewlett-Packard (HWP ) should buy Compaq Computer (CPQ ), and Apple Computer (AAPL ) should start building Windows computers. No one has taken his suggestions so far, but consolidation is under way--and Dell Computer Corp. is its biggest beneficiary. The company, Neff says, is slashing prices and stealing market share from its rivals. Because of its low operating expenses, helped by recent layoffs and a restructuring, it's the only one making a buck on PCs. Dell's future growth will come from servers, storage hardware, and support and consulting services that generate higher margins than PCs. After flat revenues and a decline in earnings this year, Neff expects Dell to return to double-digit revenue and profit growth next year. He projects its shares, now at 25, could hit 40 within 12 months.
He's also keen on Sun Microsystems Inc. (SUNW ) Once companies can spend more freely on moving their operations to the Internet, he thinks Sun will get most of the demand for powerful servers. Revved-up servers and workstations based on Sun's new line of powerful microprocessors are rolling out now, meaning Sun's stock has the potential to pop. He bets the stock, which is trading at 16 1/2, could go to 24 in the next year.
Although Neff figures it will be a while before the storage sector rebounds, he thinks EMC Corp. (EMC ) makes a good bet when it does. Neff calls EMC's hardware "life insurance" for companies because it protects their vast stores of critical data. He doesn't expect revenue and earnings to increase much this year, but predicts they will surge 25% in 2002. He sees shares jumping to 45 next year, from their current 31 3/5.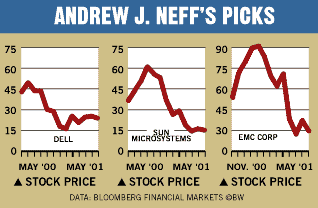 Before it's here, it's on the Bloomberg Terminal.
LEARN MORE