Gold: Glittering Again
The S&P Gold & Precious Metals Index has risen sharply in recent weeks. But is the rally just iron pyrite?
By Sam Stovall
Do you want to hear something that will surprise you? The S&P Gold & Precious Metals Mining Index is up 26% in the past 13 weeks! Why, you say? Well, I asked the same question, but I also wondered if it will last. In case I needed to remind you, the five-year compound annual return for this industry index is a minus 17%! So I asked Leo Larkin, S&P's metals analyst, what he thought. He said that he is positive on the group for several reasons.
First, equity markets will offer less competition for investment demand. Double-digit rates of return for equities from 1995 through 1999 provided immense competition for gold.
Second, he said we could see a continued rise in commodity prices in 2001, reflecting consolidation in commodity producing industries. For example, after declining 16.6% in 1998, the Bridge Commodity Research Bureau (CRB) Commodity Price Index rose 7.3% in 1999 and increased 11.1% in 2000. Also, the Bureau of Labor's Producer and Consumer Price Indices have been rising since mid-1998. For example, in 2000, the CPI was up 3.4%, versus 2.7% gain for all of 1999. The CPI's gain for 2000 was the largest annual increase since 1990 when the index rose 6.1%.
Third, the deficit between production and consumption is expected to widen in 2001 as output declines and physical demand increases. Also, he sees lower production in 2002 as the low gold price has led to sharply reduced exploration. Thus, production will decline or stagnate at best even if the metal price rises dramatically.
Fourth, the agreement to limit gold sales through September 2004 to 2000 tons, including sales by the Bank of Switzerland and the Bank of England, removes an uncertainty that plagued the market during the late 1990s. Central bank sales in preparation for the European common currency, Australia's sale of part of its reserves in 1997 and the BOE's announcement on May 7, 1999 damaged the market.
And finally, for the first time since 1996, gold rose in nearly every major currency in 2000 but the U. S. dollar. With the dollar expected to head down in 2001, Larkin believes this should help lift gold.
I hope Leo's right. The chart below says he has a good chance.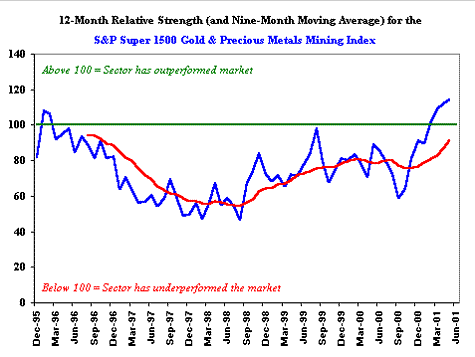 Stovall is Senior Sector Strategist for Standard & Poor's
Before it's here, it's on the Bloomberg Terminal.
LEARN MORE