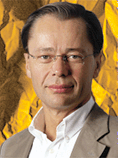 Bertelsmann

POSITION: CEO
CONTRIBUTION: He made Bertelsmann the first major European publisher to sell books, music, and magazines over the Web. And he shook up the music biz by forging an alliance with maverick Napster.
CHALLENGE: To use e-commerce to turn around money-losing book clubs and boost lackluster profit from music sales.
Thomas Middelhoff seems far from Nasdaq's turmoil as he sips red wine and puffs a cigar in his wood-paneled dining room. The dot-com crash has barely dented the faith of Europe's top Net booster. "We believe e-commerce is a permanent part of the media business," says Middelhoff, chief executive of media giant Bertelsmann.
More than any other media company in Europe, Bertelsmann is remaking itself for the digital world. The company earned $7 billion on early investments in America Online Inc. In 1998, Middelhoff ordered that all Bertelsmann's books and musical recordings be digitized so they could be sold online. And then, in October, he sunk $60 million into Napster Inc., the renegade music file-sharing service.
Not all of his bets have paid off, though. In November, Bertelsmann closed its anemic online auction site. And in case Napster doesn't work out, Middelhoff has joined a group that is developing a secure way to download digital tunes. Next up: Using the Net to help Bertelsmann's money-losing book clubs. In the U.S., club Web sites already bring in a third of all new members. Middelhoff may still be tinkering with the formula to make all his Net initiatives pay, but he's not turning down the volume.
Before it's here, it's on the Bloomberg Terminal.
LEARN MORE