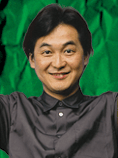 NTT DoCoMo Inc.

POSITION: Executive Director, Gateway Business Dept.
CONTRIBUTION: He created the content side of i-mode, Japan's hugely successful service for connecting to the Net via cell phones.
CHALLENGE: To transport i-mode to Europe and the U.S. over the next year and develop new services like shopping for the next-generation phone service, launching on a limited basis in May.
Thanks to Takeshi Natsuno, Japanese wireless carrier NTT DoCoMo (NTDMY ) has become the No. 1 provider of mobile Web services. It boasts 23 million subscribers for its i-mode service after just 26 months.
Natsuno's approach is a model for others. I-mode subscribers tap into their Net phones for everything from games to music downloads to weather reports. Natsuno, 36, made it a priority to line up quality content providers, which now number 1,700. Fees range from $1 to $3 a month per service. DoCoMo gets a 9% cut of these charges and monthly subscription fees of $3. Revenue from i-mode is expected to reach a huge $3.5 billion in fiscal 2000.
And this is just the start. "All the functions we need--whether it's a watch, wallet, credit card, or Net access--will be built into the cell phone," he predicts. Don't doubt the guru of the mobile Net.
Before it's here, it's on the Bloomberg Terminal.
LEARN MORE