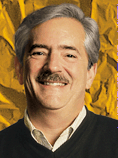 General Mills Inc.

POSITION: Chairman and CEO
CONTRIBUTION: He made General Mills tops in using the Net to trim costs. The foodmaker conducts research, coordinates logistics, even lets consumers concoct their own cereal recipes--all via the Web.
CHALLENGE: Finding enough savings on the Net to offset slow-growth cereal business. Already, the company stands to save about $40 million a year on Net logistics.
It used to be that General Mills Inc. (GIS ) had to send researchers across the country to conduct focus groups or hire marketing companies to poll consumers on a new kind of cereal or yet another variety of Hamburger Helper. Now the Minneapolis food company conducts 60% of its consumer research online, reducing costs by 50%.
That's just the frosting on top of General Mills's e-business strategy. The company also makes purchases from Transora, an electronic-marketplace consortium. And it shares trucking services through an online network--expecting to shave 7% off shipping costs. Not bad for an outfit that traces its history back 135 years to flour mills on the Mississippi.
The man leading this revolution is General Mills Chairman Stephen W. Sanger. The 55-year-old believes the Net is a weapon against eroding margins in the slow-growth food industry. "The Internet gives us capabilities that are beyond anything we have gotten from any other source," says Sanger, who's a model for other traditional industrial giants on how to take advantage of the Web.
Next, Sanger is trying to use the Web to turn marketing into a profit center. He has formed a joint venture with a California market research firm to sell online market research services to other consumer packaged-goods companies. So far, 3M (MMM ), Nestle (NSRGY ), and PepsiCo (PEP ) are among their clients. Thanks to the Web, Sanger is finding a few green clovers in those boxes of Lucky Charms that he makes.
Before it's here, it's on the Bloomberg Terminal.
LEARN MORE