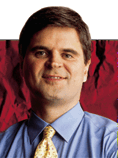 AOL Time Warner Inc.

POSITION: Chairman
CONTRIBUTION: He brought the Net to 29 million people via an easy-as-pie online service. Now, with the acquisition of Time Warner Inc., he sits atop the most powerful empire of new and old media.
CHALLENGE: To generate synergies and new businesses by using AOL's brand and digital infrastructure to leverage Time Warner's entertainment, news, and cable operations.
Steve Case runs AOL Time Warner (AOL ), arguably the most powerful company on the Net since the merger of America Online Inc. and Time Warner. What's he doing with his new clout? Moving beyond the role of company visionary to industry statesman.
His goal: to make sure new rules for the Internet won't inhibit his company, or the growth of the Net. At a March bipartisan congressional retreat, he urged lawmakers to strike a careful balance, seeking common ground, for instance, between consumer demands to download music from the Net and the recording industry's desire for copyright protection. Case, 42, believes having separate rules for TV, telephony, computing, and music doesn't make sense when the boundaries between industries are blurring.
Back at HQ, he's pushing hard for innovation. "We believe television, the telephone, and stereo are important in people's everyday lives, not just the PC," Case says. "The real opportunity for us is to build bridges between them to help facilitate new kinds of products and services." If he can get AOL Time Warner's far-flung operations working together, he'll prove himself a statesman in more ways than one.
Before it's here, it's on the Bloomberg Terminal.
LEARN MORE