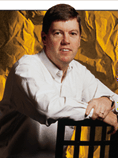 Scott G. McNealy, Sun Microsystems Inc.

POSITION: Chairman and CEO
CONTRIBUTION: McNealy declared more than a decade ago that ``the network is the computer.'' The Internet proved him right. Sun's servers and Java programming language are the foundation for many top Web sites.
CHALLENGE: No company was ramping up faster than Sun when the slowdown hit. McNealy will have to adjust without sacrificing long-term goals.
Back in 1984, when Scott G. McNealy, then the acting president of Sun Microsystems Inc. (SUNW ), hired Crawford Beveridge to be the startup's human resources chief, he told him to hire a "real" president. "Thankfully," says Beveridge, "I never got to that task."
It's a good thing for Sun and for the Internet. No other tech executive has done more than McNealy to spot e-business opportunities and turn them into reality. When the Net went bonkers in 1995, McNealy was all over it. Sun developed the Java programming language to make it possible to write software that could run on all computers, and its muscular servers provide the horsepower for most major Web sites.
Now, McNealy is focused on selling more than just servers. Sun is assembling soup-to-nuts offerings that include storage, software, and related technology to help service providers expand their offerings--whether it's shuttling wireless e-mail to consumers or providing powerful back-office applications to corporations via the Web. "We're trying to find as many useful ways as possible to connect everyone, everywhere to the Net," says McNealy.
Making progress toward these grand ambitions won't be easy in this economic slowdown. Sales in the most recent quarter grew just 2%, and Sun will be tested to avoid the layoffs that have plagued others. What's more, Sun's software and storage efforts have so far been uninspired. eBay, which agreed to try new storage devices last year, recently dumped Sun for Hitachi Data Systems.
Everything isn't roses right now. But McNealy and Sun survived worse scares before, and always came out stronger.
Before it's here, it's on the Bloomberg Terminal.
LEARN MORE