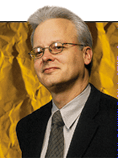 Groove Networks Inc., Founder
CONTRIBUTION: He picks up where Napster left off by bringing to large corporations Groove, a Web groupware program that uses peer-to-peer technology.
CHALLENGE: To make Groove into a major software company. So far, only a few corporations have signed on to test-drive Groove.
Ray Ozzie is a shy gearhead who says without remorse that he has almost no life outside his work. His main escape is a 36-foot, modified lobster boat named Reverie, which he takes for jaunts off the Atlantic coast near his oceanfront home in a Boston suburb. But more often, he's hunkered down over a PC trying to change the world with radical new software.
His product, called Groove, is based on a technology that has the potential to throw gasoline on the Web's now slow-burning fire. So-called peer-to-peer technology uses the Net to link dozens or even thousands of computers, allowing them to share information and files freely. So far, three companies, including GlaxoSmith-Kline PLC and Raytheon Co., have signed up to try out Groove, which was launched last October.
A ton of entrepreneurs are jumping into the market, but experts believe that if anybody can make P2P a success, it's Ozzie and Groove Networks Inc., his four-year-old Beverly (Mass.) company. He has already proven himself. In the early 1990s, Ozzie worked at Lotus Development Corp. and created Notes, a popular program for group communications.
Ozzie isn't fazed by the competition. "At this point, almost anyone could either be a competitor or an ally," he says. There's no telling how long his window of opportunity will be open. But you can be sure Ozzie will be spending his time hunkered over a PC.
Before it's here, it's on the Bloomberg Terminal.
LEARN MORE