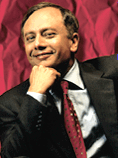 Juniper Networks, Inc.

POSITION: Founder and Chief Technology Officer
CONTRIBUTION: Juniper has built itself around the Web. The maker of networking gear collaborates on designs, links with outsourcers, and manages inventory via the Web.
CHALLENGE: Sindhu must wring all the efficiency he can out of Juniper during the tech slowdown, which is squeezing prices.
When Pradeep Sindhu founded Juniper Networks Inc. (JNPR ) in 1996, industry pundits thought he was crazy to take aim at networking powerhouse Cisco Systems Inc. (CSCO ) Five years later, Juniper has grabbed 30% of the high-end router market. "What's our secret? Focus and executing relentlessly," says Sindhu, 47.
It doesn't hurt to have an extra ace up your sleeve. For Juniper, that's the Net. The company has built its operations from the ground up to take advantage of the Internet. That enables Sindhu and his colleagues to focus on developing Cisco-killer products--and not get bogged down with the manufacturing, inventory, and other distractions of most metal-bending shops.
The financial payoff has been handsome. Juniper last year enjoyed an eye-popping $1.02 million in revenue per employee, vs. $703,529 for Cisco and about $400,000 on average for the communications equipment industry. "The Internet is a weapon that cannot be beaten," says Sindhu. This little David has turned into a Goliath in its own right.
Before it's here, it's on the Bloomberg Terminal.
LEARN MORE