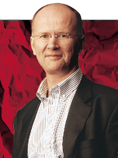 Nokia Corp.

POSITION: President
CONTRIBUTION: He's one of the biggest champions of the wireless Web and produced the first Web phone five years ago. By 2003, Nokia could sell 150 million Web-ready phones a year.
CHALLENGE: To extend Nokia's dominance to the Net, he must make software, taking on new rivals such as Microsoft.
Five years ago, Nokia Corp. (NOK ) produced an odd-looking beast: a brick of a cell phone called the Communicator, which opened up to reveal a tiny Web-surfing computer. The machine was clunky and offered painfully slow Web service. It was one of the rare Nokia phones that lost money. So why bother? Pekka Ala-Pietila, then head of Nokia's cell-phone division, said simply: "This is the future."
The mobile Net is still more promise than reality. But it's coming, and Nokia is leading the way. By 2003, virtually every phone Nokia makes--150 million annually--will be Web-enabled. That means Nokia will build more Net machines than anyone. And as Nokia's president and chief Internet strategist, Ala-Pietila will have a big hand in shaping the future of electronic business.
The Web he imagines is made up of as much software as hardware, Nokia's traditional strength. Ala-Pietila is tapping the smarts of 20,000 engineers to develop both machines and applications that will bring this new Web to life. The company is working on new camera phones and music players. It is putting together mini-Web portals and browsers. And Nokia is building security systems that will allow users to bank and shop via their phones.
Nokia's chairman, Jorma Ollila, calls 44-year-old Ala-Pietila "my vision man." The vision Ala-Pietila is building should keep Nokia in the forefront as the future arrives at last and the Net goes mobile.
Before it's here, it's on the Bloomberg Terminal.
LEARN MORE