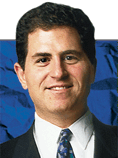 Dell Computer Corp.

POSITION: Chairman and CEO
CONTRIBUTION: He wrote the book on e-business, tapping the Net to do everything from handling customer orders to linking suppliers. The savings have allowed Dell to launch a PC price war--and still be profitable.
CHALLENGE: He must find growth in the midst of shrinking PC demand. The trick is to make servers and storage devices so simple that companies will feel comfortable buying them online, cutting Dell's costs.
Michael Dell was e-business before e-business was cool. During the boom in technology spending, he used the Internet to reach out to customers and sell $50 million worth of computers a day. That was then. Today, the PC business is in turmoil, and all the economic indicators show lean times ahead. The party's over for Dell Computer Corp. (DELL ), right?
Hardly. Party on, Michael. Turns out, Dell's returns on e-business may be even more crucial during the downturn. Thanks to efficiencies created, in part, by Dell's Web-based supply chain, the company can remain profitable even while it launches a bloody PC price war.
In the past year, Dell has hooked 90% of its suppliers into its factory floors via the Web so they can can see up-to-the-minute information on orders and replenish Dell's supplies only when necessary. The PC maker reduced inventories to a meager five days' worth last year--down from 13 in 1997--and saved $50 million. Rival Compaq Computer Corp. (CPQ ) had more than three weeks of inventory on hand last quarter. "We don't have to guess what the consumer is going to buy," boasts the 36-year-old Texan.
Now, Dell wants the Web to do a lot more. He's encouraging customers to adopt Web-based procurement systems that can hook directly into Dell's order management system. This produces time savings and gives Dell more insight into its customers' needs. The change cut the average time it took Litton Industries' PRC Inc. to submit an order from 21 days to less than two, and gave the technology contractor an annual savings of more than $200,000.
Dell doesn't give the Net credit for all of his company's success. "The Web is not a panacea," he says. But the exec's savvy use of the Internet is giving him the edge, while putting the hurt on the competition. Now that's cool.
Before it's here, it's on the Bloomberg Terminal.
LEARN MORE