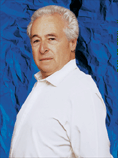 WebMD Corp.

POSITION: Chairman and CEO
CONTRIBUTION: By putting WebMD on a steady financial keel and building bridges to doctors and HMOs, he could help revolutionize the health-care system, linking patients, doctors, and insurers to cut bureaucracy and save money.
CHALLENGE: Winning over insurers, who feel threatened by WebMD's rush to the Web, as well as doctors who are dubious about the Net.
Martin J. Wygod has always been willing to play the long odds. As a teenager, the New York native gave up his job walking horses at the racetrack when he discovered he could make more by betting on the races. Then, in the early 1980s, the stockbroker-by-training took a flier on health care by purchasing a small mail-order pharmacy business--which he later sold to Merck Corp. (MRK ) for $6.6 billion.
Now CEO of the embattled WebMD Corp. (HLTH ), Wygod is betting that he can succeed where others failed--and deliver the elusive payoff from e-health. The goal: Building tight digital links between insurers, doctors, and patients--which analysts say could save at least $50 billion in processing and other back-office costs. "This is going to happen," Wygod vows.
So far, though, all WebMD has to show for its efforts is an accumulated $3.5 billion in losses and a stock that's down 93% from its peak. But fans say those losses mask the company's slow but steady progress: It now processes billions of claims and payments and has the most heavily-trafficked consumer health site. Later this year, Wygod will roll out a wireless handheld device to enable doctors to write prescriptions, order lab results, and view patients' records online. "This is a different company from a year ago," says S.G. Cowen analyst John Souter. If Wygod, 60, turns WebMD around, his last bet could reap his biggest jackpot yet.
Before it's here, it's on the Bloomberg Terminal.
LEARN MORE