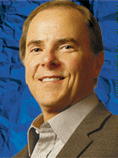 Enron Corp.

POSITION: President and CEO
CONTRIBUTION: Thanks to the Net, he transformed Enron into North America's largest energy marketer. He's trading everything from paper to metals online to the tune of $162 billion in the first quarter.
CHALLENGE: Get new broadband Internet trading unit on solid footing by proving bandwidth can be traded like a commodity.
Enron Corp. (ENE ) Chief Executive Officer Jeffrey K. Skilling likes to say that the nation's leading energy merchant was ready for the Internet long before there was anything.com. Enron's business of buying and selling commodities such as electricity and natural gas--by phone or fax--was a natural fit for the Web. Over the past year, Enron has taken online trading to a new level, harnessing the Web to bring Enron's risk-management prowess to everything from metals to high-speed communications. "Our volumes are way up," says Skilling.
Try through the roof. EnronOnline handles 5,000 transactions per day. The company posts prices on more than 1,500 products that it stands ready to buy or sell to utilities, municipalities, and other big wholesale customers. Since November, 1999, EnronOnline has traded more than $525 billion worth of commodities, making it the Web's biggest and most successful business-to-business site.
Skilling's most challenging move: high-speed communications bandwidth. In the past year, Enron has spent $436 million to create its own 15,000-mile fiber-optic network to provide real-time bandwidth to customers. Because of a supply glut and falling prices, bandwidth trading is struggling. In March, Enron suffered a major blow with the abrupt cancellation of its video-on-demand pact with Blockbuster Inc. (BBI ) Skilling says the deal was called off because Blockbuster wasn't getting movies from Hollywood studios fast enough.
Such setbacks don't faze Skilling, a former McKinsey & Co. consultant who graduated in the top 5% of his Harvard Business School class. He sees almost no limit to what Enron can trade--even ad space is a possibility. "The Net allows you to touch lots of customers inexpensively," he says. Not bad for mere commodities.
Before it's here, it's on the Bloomberg Terminal.
LEARN MORE