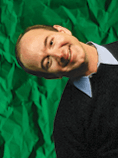 Amazon.com Inc.

POSITION: CEO
CONTRIBUTION: Bezos keeps a relentless focus on customer satisfaction, creating a gold standard for other online outfits to meet.
CHALLENGE: What else? Profits! Bezos has promised a quarterly pro forma operating profit by yearend, but it will be tough in a slowing economy.
Like many other customers of Amazon.com Inc. (AMZN ), ceo Jeffrey P. Bezos keeps a public wish list of Amazon items he might like as gifts. Sorry, someone already bought him the Harry Hairball plush toy he craved. But for $28.79, gift-givers can buy him the American Allsafe White Durango Cowboy Hardhat, which meets government safety requirements.
Better make it a rush order, though. No one in e-business today draws more brickbats than the founder of the world's biggest consumer e-commerce company. Despite $2.8 billion in sales last year of everything from books to drill bits, Amazon has never earned a penny. That's driven its stock down to $15--more than 85% below its December, 1999, peak--and put Bezos on the hot seat. If he succeeds, there's hope for e-tailing. If he fails, the promised revolution in online selling may prove a bust. Says director and venture capitalist John Doerr of Kleiner Perkins Caufield & Byers: "He's gone from Internet poster boy to Internet piñata."
Tired of getting knocked around, Bezos for the first time in January promised Amazon would earn an operating profit by yearend. For Bezos, that's a whole new challenge, one he's moving quickly to meet. He has made Amazon more efficient, turning over inventory faster and closing some facilities. Result: Operating losses fell to 7% of sales last quarter, from 17% a year ago. Says analyst Jeetil Patel of Deutsche Banc Alex Brown: "This is one of the few Internet companies that will end up surviving."
A lot of analysts and investors still have their doubts. And some potential bricks-and-mortar partners Bezos is wooing to join forces on selling low-margin products, such as consumer electronics, are waiting to see if Amazon fades. Says a steely Bezos: "Anybody who's waiting for that is going to be sorely disappointed." But it's likely that more whacks are in store for the Internet's piñata.
Before it's here, it's on the Bloomberg Terminal.
LEARN MORE