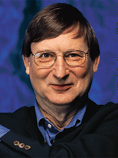 University of California at Berkeley

POSITION: Dean of the School of Information Management
CONTRIBUTION: Through articles and books, he argues that Net businesses have to adhere to established economic rules. The Priceline.com name-your-price site, for instance, couldn't change consumer behavior.
CHALLENGE: To convince established companies that the end of the Net stock bubble doesn't mean they can ignore changes brought on by the Internet.
Academic Hal R. Varian has risen to prominence in the wake of the Internet meltdown based on his simple premise: The past counts. No matter how powerful the Internet is as a tool for communications and commerce, fundamental economics still apply. "My slogan is, you don't need new economics to understand a New Economy," says Varian, dean of the School of Information Management & Systems at the University of California at Berkeley.
Indeed, Varian has taken a lot of the voodoo out of Net economics. His 1998 book, Information Rules, was a primer on how established economics play out in a digital economy. One example: Internet auction site eBay Inc.'s business wasn't actually as novel as some people thought. It's really just electronic classifieds, he says. What made the service more valuable than the Sunday paper was that with many more buyers and sellers available, pricing became incredibly efficient, and the thing snowballed. His lesson: Look for something that has worked in the past and figure out a way to supercharge it using the Net.
While he gained fame for throwing cold water on the Web's excesses, Varian now warns against dismissing it. The work of wringing the benefits out of Internet technology is just beginning, he says, and he urges business leaders to keep at it. When things settle down, this new technology will be as powerful as people thought--just in different ways than they had expected.
Before it's here, it's on the Bloomberg Terminal.
LEARN MORE