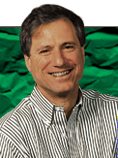 General Electric Co.

POSITION: CIO
CONTRIBUTION: Helped make GE the e-business leader among large manufacturers, with projected savings of $1.6 billion in 2001.
CHALLENGE: Pushing cultural change among GE's 340,000 employees and getting customers to buy GE stuff online--everything from mutual funds to jet engine repair services. Last year, GE handled 5% of its sales online, far short of its 30% goal.
Gary Reiner isn't afraid to pose provocative questions at General Electric Co. (GE ) "Why do you need a corporate headquarters?" he asks. Broadband networks and new technologies could make it possible to operate without one some day. "We're clearly much more virtual than we ever were," he tells the troops.
Reiner is spearheading nothing less than a cultural revolution at GE. The goal is to take full advantage of the Internet to sell products and services, to streamline internal operations, and to purchase materials and supplies. GE books only 5% of its sales online now but aims ultimately to hit 30% or more.
Reiner is leading the way for other industrial giants. GE is far ahead of the nation's largest 50 corporations in squeezing benefits out of the Web. Hundreds of GE's Net projects have bloomed. At the locomotive business, for example, engineers developed a Web tool that lets GE hold 100 auctions a day for suppliers to bid on contracts, which could cut purchasing costs by $600 million this year. Overall, GE expects to ring up $1.6 billion in cost savings from e-business in 2001.
Reiner gets much of the credit. "What separated him from many other CIOs was that Reiner went out and talked to the different GE divisions and talked to customers," says Richard F. Doherty, founder of Envisioneering Group, a market research firm. "He listened harder to what was working and what wasn't." Maybe Reiner's approach will provoke other major corporations to move more aggressively to the Web.
Before it's here, it's on the Bloomberg Terminal.
LEARN MORE